If you've ever driven to Negril via the South Coast, you would have driven along a coastal stretch in Westmoreland overlooking the bluest water you've ever seen. That area is an idyllic seaside community aptly named Bluefields. Back in December, the entire family took a trek to Peter Tosh's grave in Belmont, Westmoreland (H claims that he is a relative of the late, great Tosh…antecedents from Westmoreland like Tosh, same surname..who am I to argue. I'm just along for the Road Trip!).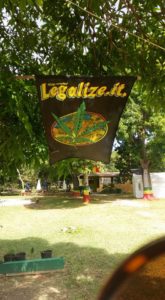 Peter Tosh's Yard
Belmont is a tiny seaside community that literally runs into Bluefields. So to call that entire stretch of white sand and blue waters Bluefields is understandable and forgivable.
Anyhows, let's back up. I had a desire to spend the Easter weekend out of town this year. And so in January I started my research. I had some must haves:
I must be right on the sea
I must have WiFi
I must have a fridge
It must fit within my budget
I knew I didn't want an all-inclusive vacation spot. I'm at the stage of my life where I don't join lines for food. The children are old enough to eat on schedule. And I know exactly what I want to drink. Simple. I just need ice, Wray and Nephew White Rum, Appleton VX, Tonic Water, Coconut Water and Ginger Ale. I don't need to be jostling and competing for a shady spot around the pool and I most certainly do not need an enthusiastic play-maker coaxing me to do the Dollar Wine. I also knew I didn't particularly feel for the oh so convenient, predictable and almost luxurious Silver Sands villas of Trelawny experience (our summer break of choice). I also could not afford the USD800.00 and upwards per night for exquisite villas along the south and west coast of Jamaica that exist. I kept coming back in my mind to beautiful Belmont. My interest had been piqued since our December pilgrimage to H's famous ancestor. Rustic (BUT WITH WIFI OF COURSE!) & unknown to me is what I was going for.
Luna Sea Inn, Belmont Jamaica
I logged into Air BnB and after many,many, many hours of searching and consideration settled on a newly refurbished inn called Luna Sea Inn, right in Belmont. It checked all my boxes.  We would be a party of 5, with kids ranging from 21 to 5. I booked the cottage which could sleep 5. There was a fridge, there was cable TV and there was WiFi. Luna Sea was right on the sea and while there wasn't an ideal swimming beach, swimming spots were within walking distance, and they had a tiny pool. The booking included breakfast and the room came with a fully stocked coffee station. Yes!
So we arrived Saturday midday. We were checked in, no problem, given welcome rum punches (juices for the younguns, a Red Stripe for the 21 yo) and we settled in. The cottage was obviously a caretaker accommodation in a previous life, but the new owner (a retired American doctor lady) had done her best to make it habitable. It was clean enough, had AC & smart TVs in each room. BUT someone had not ensured that all was well before handing the room over to guests and we discovered that the fridge wasn't working, neither was one of the TVs. On the bright side, there was a large day-bed just outside the cottage, under a shady almond tree, six steps away from the rocky area where waves crashed relentlessly. I was in Paradise.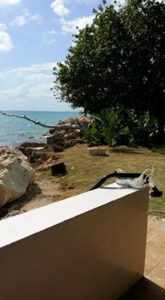 View from the Cottage at Luna Sea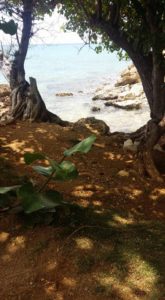 View from the day bed at Luna Sea
Another view from the day bed at Luna Sea
Intrepid adventurers that we are, we had packed snacks, juice, water rum, more rum, chasers of all kinds, mangoes, Easter bun, cheese, salad fixings, pickles and a roasted chicken and ice. And we had 2 igloos. Broken fridge? Ha! Bring it!
We explored the small but well kept property. The adults settled down with cocktails, the kids logged on to their various devices and in between games and surfing the world wide web, walked down the rocky steps and found crabs, sea urchins and various forms of marine life dwelling in the rocky outcrop.
That night, we decided to check out the famous Dor's Crab Shack, a 2 min drive down the road, billed as the best place to eat in Belmont, apparently famous for stuffed crab backs. It was totally devoid of patrons when we pulled up after 6pm and we were informed that only fried chicken and shrimp were available. Oh…and they don't take cards, only cash. Bummer. We decided to drive into White House, the nearest town, and after checking at the main gas station for recommendations for places to sit and eat, we still came up blank. The one restaurant that looked like we could sit and have a meal was closed off that evening for a private party. Sure there were jerk vendors and roadside fish vendors, but road food with nowhere to sit is not the most convenient way to feed a 5 yo. So reluctantly we headed back to Dors. Truth be told, the fried chicken and curried shrimp we had there were delicious…well seasoned, nicely presented and of course nothing beats eating right on the white sand with waves gently breaking. The food was inexpensive and filling and tasty. Only cash was accepted.
Breakfast the next morning at Luna Sea was an event. They bungled our order and despite apologetic, well meaning staff, there was once again the absence of management and a missing service standard which resulted in a sub-par experience. The food was tasty enough when we finally got it: a fresh fruit plate, good coffee, and your choice of Jamaican or American style breakfast. Nice. We had ackee and saltfish, seasonal fruits, pancakes, bacon and omelettes.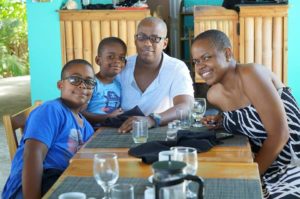 My Tribe waiting for Breakfast at Luna Sea
Fellow Jamaicans staying in a nearly suite (those rooms are more updated than the cottage…I know because I am nuff and asked a cleaning lady to allow me to view an empty room) told us that they had actually driven into Negril for dinner and pointed us to the excellent public beach just a minute down the road. We finalised our plans for Sunday! We would go for a dip in said public beach and then we'd drive to either Negril or nearby Black River in the adjoining parish for dinner. I had planned to dine at Luna Sea, but after the near catastrophe that breakfast was (did I tell you that the card machine stopped working at breakfast?) we decided to dine off-property.
Before I tell you how awesome dinner was and where we dined, let me pause to make some observations about Belmont, Westmoreland. So you already know that dining options were limited, despite it being a fishing area. You already know that cards are meaningless in this area. So walk with cash, inconvenient though it may be. But what we noticed that day on the public beach was a relative plethora of young Caucasians, obviously staying in Belmont, hanging with locals, smoking ganja, eating local street food, absorbing the vibe. An obviously impoverished area still had enough to attract visitors! There was a tree house type establishment right on the beach with a trap set and speakers where H discovered people jammed after dark. The air in the tree house, even in the afternoon, was thick with ganja smoke, not conducive I think to family togetherness, but obviously attractive to a particular demographic. Surely it is possible to maintain the authentic, rustic vibe without being pop-down and limited in the offerings to a wider demographic. Food for thought, Jamaica Tourist Board?
Cloggy's for Fish, Black River Jamaica
Google maps told us that it was a mere 23 minute drive from Luna Sea Inn to Black River. That evening, we  headed to Cloggy's on the Beach in Black River. We had eaten there before and were sure that we would be able to get a good fish dinner right on the beach. And we were not disappointed. We selected huge snapper fish and told them how we wanted them prepared: escoveitch and brown-stewed with festivals and bammy were the order of the day. Once again we had to pay in cash (bummer!), then we took our seats in a raised gazebo overlooking the Black River coastline. Simply beautiful.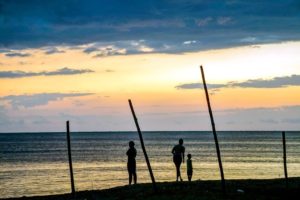 Cloggy's At Sunset. Photo Credit: Rachael McIntosh
We (happily) observed that Cloggy's had spent some money fixing up their dining area and cleaning up the surroundings since last we were there. And bonus! It was Sunday night, also billed as Karaoke Night at Cloggy's. Woo-hoo! We got our perfectly done fish meals, cold beers and drinks and Yours Truly made a perfect fool of herself participating in karaoke! Bellies full, still laughing, we left Cloggy's a very happy, satisfied crew. I should note that while we were waiting on our meals, two potentially distressing things happened: the DJ turned up the volume waaay too loud. H had a quiet word, and that ended well. And then motor cyclists, almost like a gang, with their bike mufflers removed, kept riding in to Cloggy's revving and being a general nuisance. Thank God they eventually left.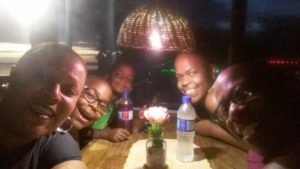 Waiting for Dinner at Cloggy's on the Beach, Black River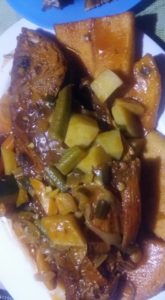 Brown Stewed Snapper Fish with veggies and bammy
The disparity between Belmont and Black River was obvious: both sleepy seaside towns, but Black River had more activity going on, more options for a wider range of visitors.
We ended our weekend out west by taking the scenic, easy route over the hills into St. James, to drop our daughter back to school. I have no regrets at choosing Luna Sea Inn, and you know what? I'd go back. With better on the ground management, that spot right at the edge of Paradise could be an absolute gem. The rates are more than reasonable, the location is perfect and the intentions are righteous.
A bus with tourists pulled into Luna Sea the Sunday afternoon we were there. H & I were sitting under the almond tree, sipping rum and reading, the waves were crashing on the rocks a mere six steps away. The children were crab hunting. One of the tourists who had disembarked remarked wistfully: You have the perfect spot! And you know what? She was perfectly correct. She was part of a group of bird watchers and I was able to point her to some nesting chicken hawks in the almond tree shading us.
I knew that I was part of a picture perfect postcard: sparkling ice cold rum drink in one hand, kindle in the other hand, feet up on the huge day-bed, in the middle of a pretty garden, with the blue Caribbean Sea providing the soundtrack only feet away. I did indeed, have the perfect spot.