Back in 2018 I did a post showing how we can totally maintain our Caribbean tradition of a huge, delicious Christmas dinner AND remain on track eating low-carb or keto. Four years and several more low-carb Christmas dinners later, I thought an update was in order. I have added some family and friends favourite dishes to my Christmas dinner repertoire and I'm happy to share my recipes and ideas with you here.
My 2018 post was a pretty good one, if I may say so myself! You should check it out. I looked at all of this:
Christmas meat dish options
Low-carb side dishes to replace the traditional crab heavy mac n cheese, rice npeas, etc.
Keto breads to add interest and keep things jiggy
Keto desserts (for what is a festive feast without a dessert table!)
Keto cocktails (yes, we can keep our spirits high should we so choose)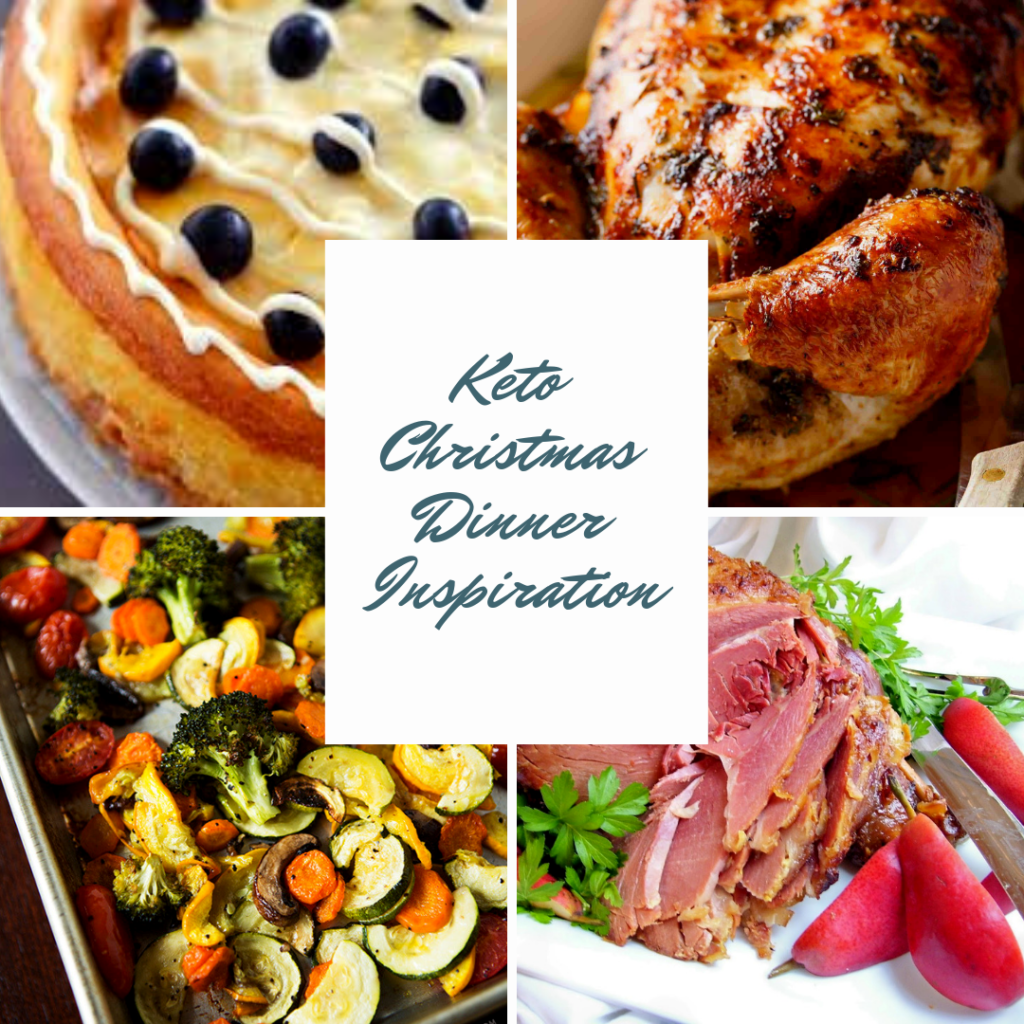 My Own Must-Haves on my Christmas Dinner Table
I typically want to have the following meat options which I pair with an array of sides and some low carb desserts.
A ham
A chicken dish (a traditional stuffed roaster is a family favourite)
Some sort of red meat dish (think keto lasagne, or curried goat, or roast beef)
A seafood dish (garlic or curried shrimp, snapper fillets done in the oven with olives, tomatoes, etc.)
So let's get into some specific ideas that I've implemented that have found favour with my family and dinner guests!
Keto Stuffing for Traditional Roasted Chicken
This is essentially a low-carb bread made with almond flour which is then cubed up, toasted and then made into a delicious, moist stuffing with bacon & fresh parsley as the dominant flavours.
Here is the low-carb bread recipe. You can make this ahead of time and refrigerate to cut-down on work on the day-of.
2 cups almond flour
¼ teaspoon salt
1 teaspoon garlic powder
½ teaspoon baking powder
¼ cup avocado oil (or oil of choice)
2 tablespoons water
3 large eggs, room temperature

Preheat oven to 350°F (180°C).
Line a 9X13 jelly roll pan, or glass pan, with parchment paper; set aside.
In a large mixing bowl, whisk almond flour, salt, garlic powder, and baking powder.
Add oil, water, and eggs.Mix until well combined.
Spoon batter evenly into a 9X13 jelly roll pan (or glass pan) lined with parchment paper.
Bake for 15-18 minutes or until the center is set and the edges start to brown.
Remove from the oven and let cool for 5-10 minutes.
Once cooled, transfer the parchment paper with the almond bread to a cutting board and cut into 1-inch cubes.
The Stuffing
1 pack bacon
1 large onion
5 cloves garlic crushed & minced
large spring fresh thyme
1/2 cup fresh parsley, cut up
1/3 cup chopped celery
1 deseeded ripe scotch bonnet pepper, finely chopped
2 tbsp butter
Chop up bacon and fry until just crisp. Remove from pan
In the bacon fat, add all other ingredients except the butter
Sautee until just translucent
Add cubed up low-carb bread and bacon to the pan
Combine and add a little salt and the butter
When fully combined and moist, remove from flame and allow to cool
When cool enough to handle, simply stuff your seasoned, prepared roaster as you'd normally do, and roast away!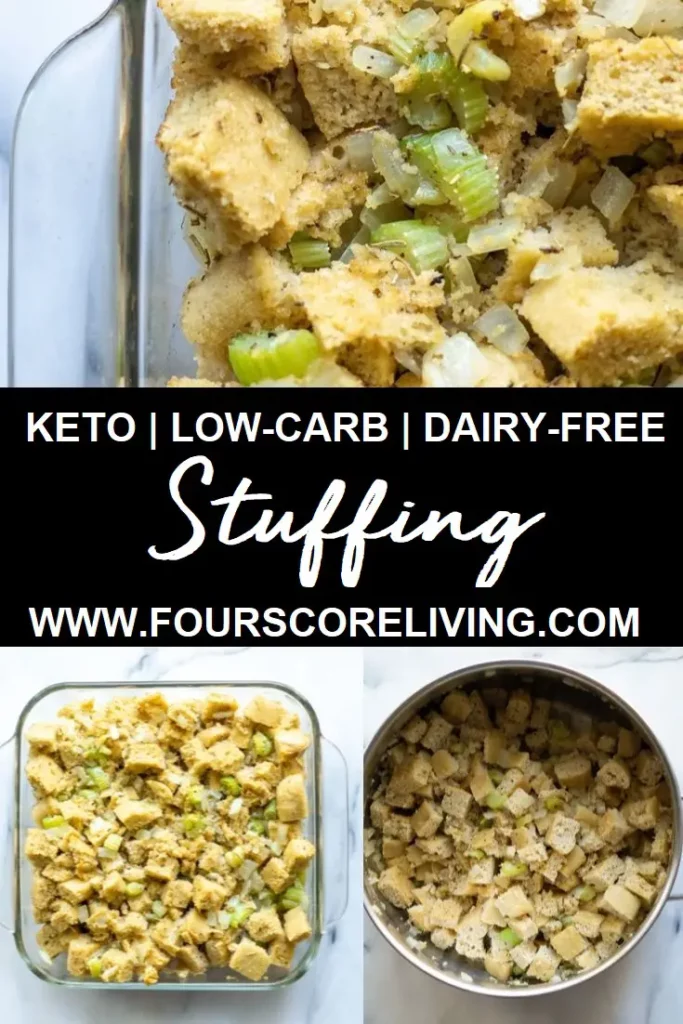 Sugary Ham Glaze that's sugar free!
I have done a herby garlic butter glaze for my ham that's simply delicious. Melt salted butter and add lots of finey minced fresh garlic and your favourite Italian dried herb blend and a few cloves to the butter. Glaze you ham with this.
But last year my family insisted on a sugary glaze. So I used Brown Sugar Serve substitute, ginger, ortanique zest, the juice of half an ortanique and cloves.
Just mix 3/4 cup Brown Sugar Swerve with the juice of 1/2 ortanique and the peel of that half ortanique and heat through on a low flame.
Add a tablespoon of crushed and minced fresh ginger
Add 6 or so cloves
Heat through until syrupy.
Remove your ham from the oven when it has 30 minutes cooking time remaining. Remove the skin and score the fat to create diamonds. Dot each diamond with a clove and glaze with your sugar-free sugary glaze. Return to oven and then glaze one more time until ham is golden brown.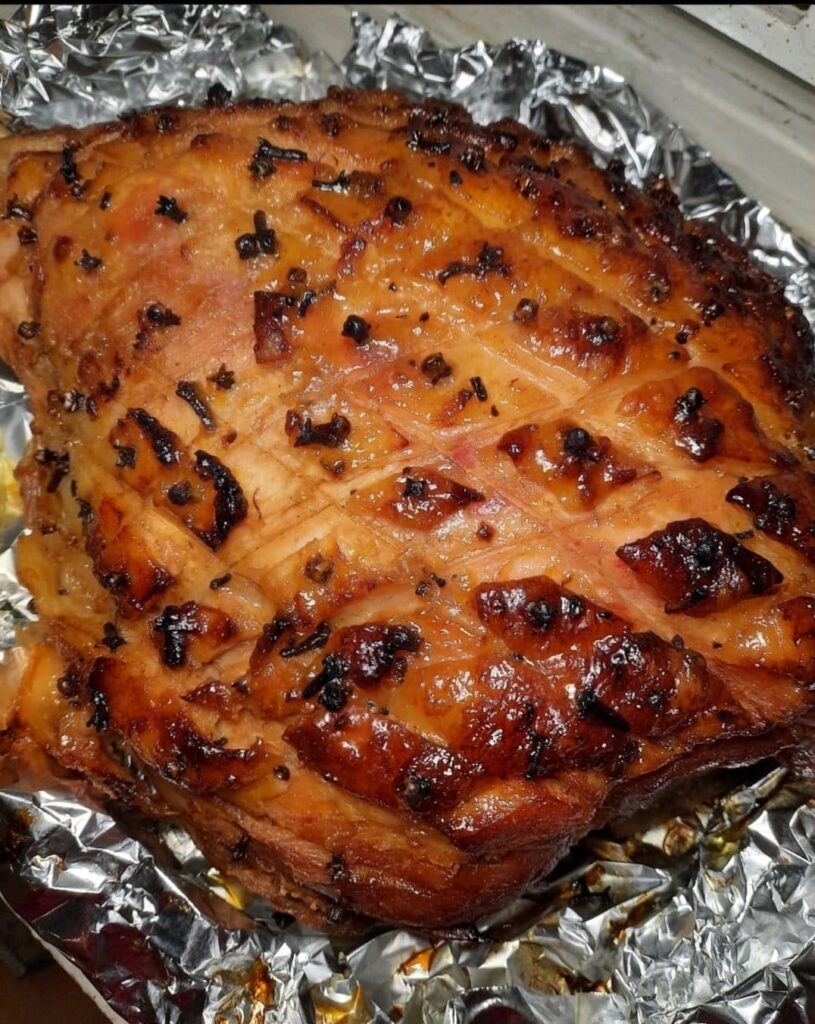 My Mac n Cheese Replacement: Cheesy Veggie Casserole
I kid you not: this is a crowd favourite, keto dieter or nah, and you won't miss the traditional carb heavy mac n cheese.
1 large cho cho (chayote/christophene) cubed
2 cups string beans
1 cup broccoli florets
1 cup cauliflower cut up
½ cup pumpkin peeled and cubed
1 medium sweet pepper
1 medium onion
6 cloves garlic
8 oz cream cheese
1/2 cup grated cheddar cheese
1 cup grated mozzarella cheese
2 tbsp butter for cooking
2 tbsp butter for greasing the casserole dish
½ cup vegetable broth, easily made by dissolving 1 bouillon cube in a ½ cup boiling water
Salt and pepper to taste (I like to add a little Maggi All Purpose too)
DIRECTIONS
Ensure that all the vegetables are cut up.
Coarsely chop the onion and sweet pepper.
Smash and mince the garlic
In a large pot, melt 2 tablespoons butter.
Saute the garlic, onion and sweet pepper for just one minute
Add the vegetables and stir for another minute
Add the cream cheese stirring gently until the cream cheese is melted and all the vegetables are coated with the cheese.
Add the ½ cup broth and the cup of grated cheddar cheese.
Stir to ensure even distribution
Remove from heat and pour this mixture into the greased casserole dish.
Top with grated mozzarella cheese
Bake in oven at 350 F until top is brown and bubbly.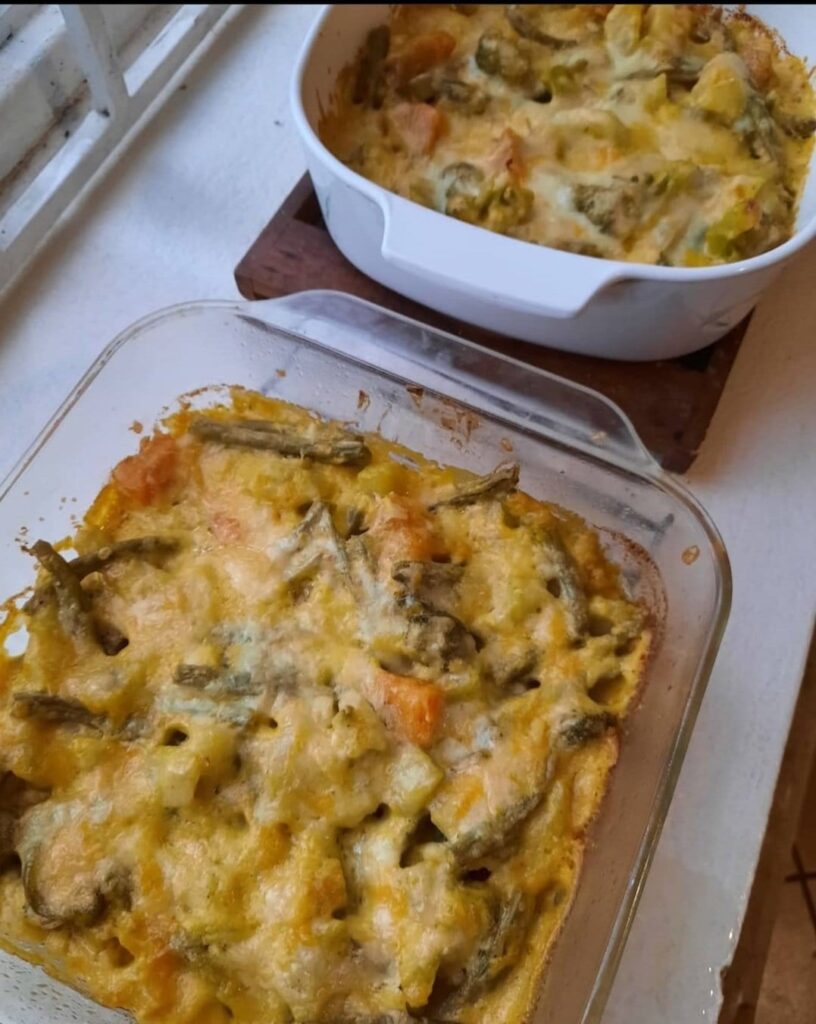 Fit for the Dinner or Breakfast Table on Christmas Day
Ackee is a must in my house on Christmas day! This side can grace your dinner or breakfast table (or both!). It is a crustless quiche, so enjoy without coming off-track. This is the mushroom & ackee version for a great vegetarian side. You can totally add bacon if you wish. Just be sure to cook the bacon first and set aside. Then sautee your aromatics before adding back the cooked bacon and ackees.
ACKEE & MUSHROOM QUICHE RECIPE
INGREDIENTS
2 dozen ackees cleaned and boiled in salt water until tender
12 oz button mushrooms chopped up
1 cup evaporated milk
1/2 cup water
4 eggs
8 cloves garlic
1 medium onion
1 deseeded ripe scotch bonnet pepper
1 tsp salt
1 tsp black pepper
2 tsp Maggi All Purpose powdered seasoning
1 cup grated cheddar cheese (separated into 2 equal portions)
1 cup grated mozzarella cheese
Butter to grease casserole dish
Coconut oil to cook ackee, mushrooms and aromatics together
DIRECTIONS
Finely chop garlic, onion, scotch bonnet pepper
Saute in hot coconut oil for 2 minutes
Add chopped up mushrooms and stir. Add salt. Let cook until mushrooms are tender.
Add the cooked ackee and stir to combine.
Add black pepper and All Purpose seasoning and stir
Cover and let cook on very low heat for about 3-5 more minutes.
Grease baking dish
Beat eggs, milk and water together until completely blended.
Add half the ackee and mushroom mixture to the greased baking dish.
Add ¼ cup grated cheddar cheese in a layer atop the ackee & mushroom in the baking dish.
Add the rest of the ackee & mushroom mixture as another layer atop the bottom layer of ackee/mushroom and the layer of cheddar cheese
Pour the egg, milk and water mixture into the baking dish
Add remaining cheddar cheese on top, then the mozzarella cheese
Bake in hot oven at 180 C until top is golden brown, about 60 minutes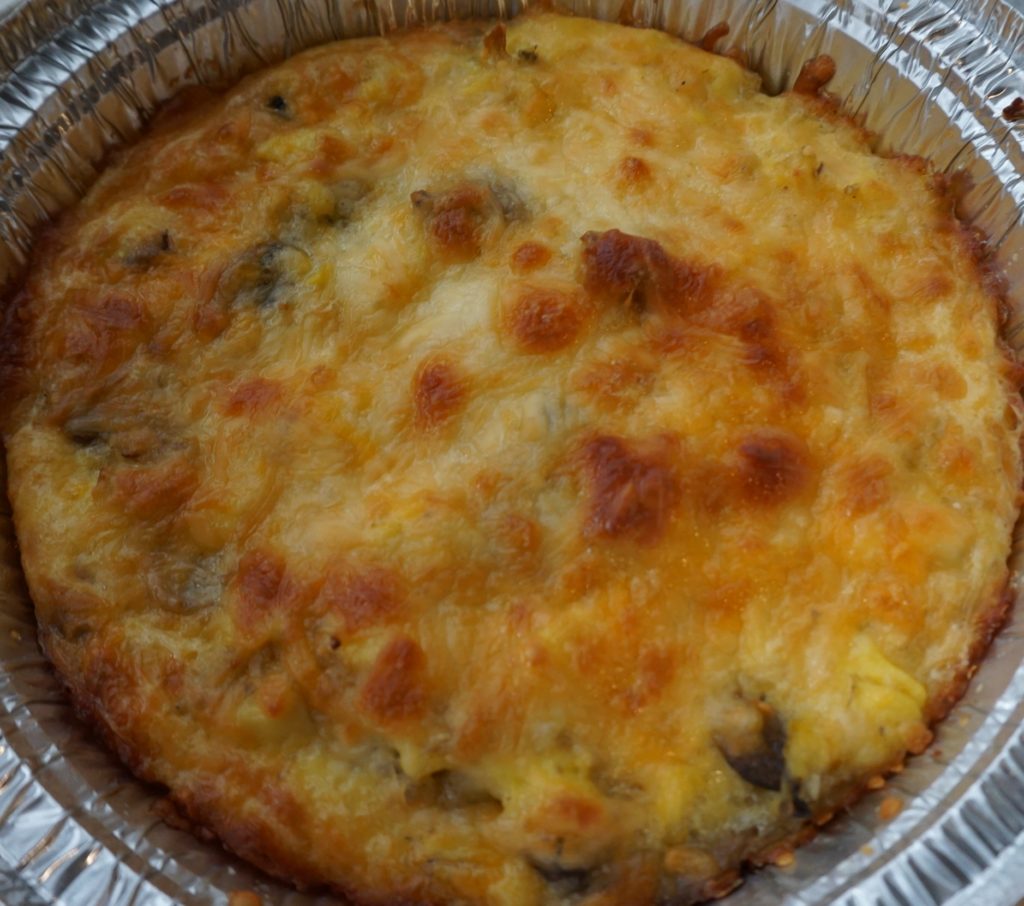 Perfect for pairing with Curried Goat: Keto Flat Bread!
If curried goat is on your menu, no need to sabotage yourself with traditional roti. A flat bread made with coconut flour is a great substitute.
1 ½ cups shredded mozzarella cheese
3 tbsp cream cheese
1 large egg
¼ cup coconut flour
1 tsp baking powder
1 tsp garam masala
1/2 tsp garlic powder
1/2 tsp onion powder
Preheat the oven to 425° F.
Line a flat baking sheet with parchment paper.
Make the dough by adding the cheese and cream cheese to a microwave-safe bowl and set aside.
Next, add an egg and coconut flour to a large mixing bowl. Combine together.
Melt the cheese and cream cheese for 90 seconds in the microwave and stir to combine.
Add the melted cheese mixture to the flour mixture and using a spatula or your hands, gently knead the dough together until everything is one color and is thoroughly combined.
Using your hands spread the dough over the parchment lined pan.
Bake until just golden brown
You can brush it with melted butter & garlic once done to keep moist and savoury.
You can totally modify this basic flatbread recipe by omitting the garam masala and adding your favourite Italian herb blend instead. Once it is baked, add a little tomato sauce… not too much…we're still watching our carbs, and some fresh basil, onion, peppers and feta (or toppings of your choice) and return to oven until just cooked. This is a delicious loaded flat bread that's sure to please!
Rum Butter Cake, Berry Compote & Whipped Cream
This is my own go-to dessert for every special occasion. No, I don't have a keto substitute for traditional Christmas fruit cake. The raisins, prunes, etc. will simply add more carbs than I want. But this rum butter cake is moist, buttery and rummy and when paired with the mixed berry compote feels decadent and festive.
2 cups (230g) almond flour – packed
1/2 cup (115g) sour cream – levelled
1/2 cup (100g) butter – melted
3 eggs
2/3 cup (120g) sugar substitute (I used erythritol)
1 tsp baking powder
1 tsp vanilla
Syrup
1/4 cup (50g) butter
1/3 cup (60g) sugar substitute (I used erythritol)
1 tbsp vanilla
2 tbsp white overproof rum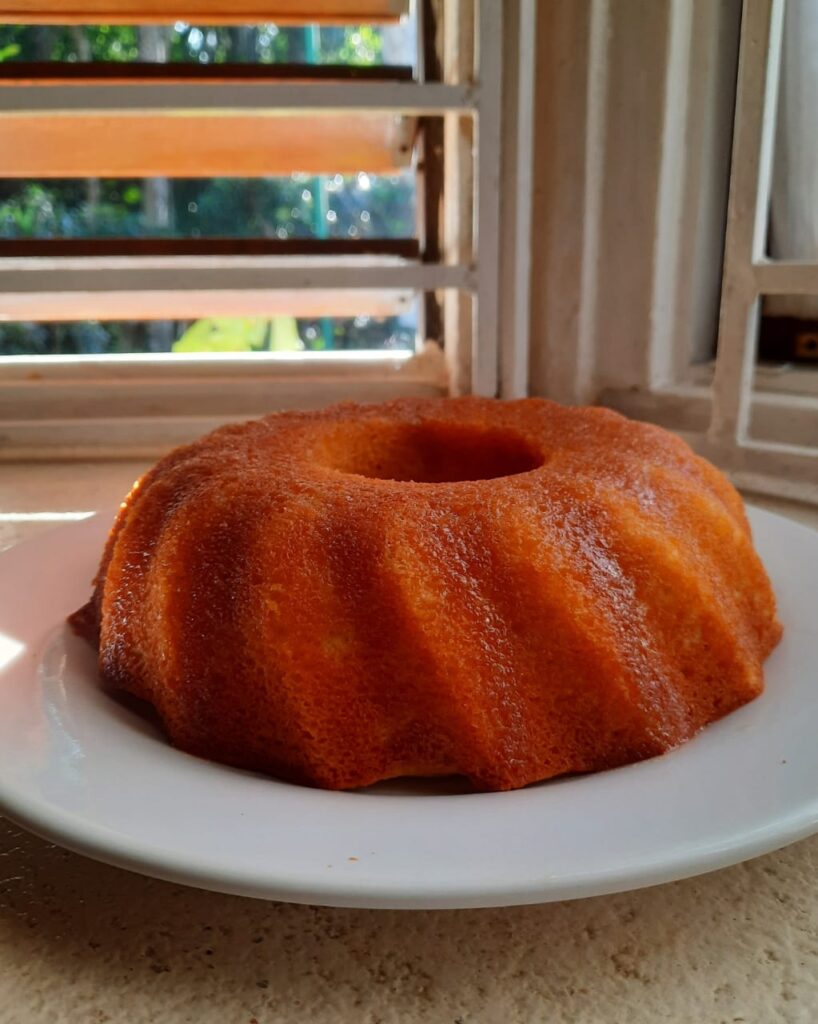 Mixed Berry Compote
INGREDIENTS
1 cup frozen berry mix (strawberries, blueberries, blackberries, raspberries)
2 tbsp your low-carb sweetener of choice
½ tsp fresh lime juice
1 tbsp white overproof rum
½ tsp vanilla essence
DIRECTIONS
Gently heat frozen berry mixture in a small, sturdy saucepan. Medium heat will do.
Add sweetener.
Stir and continue to heat through.
When mixture begins to bubble, add lime juice and rum.
Stir. Taste. Add more sweetener if needed.
Turn off heat once everything has come together. Takes between 6 -10 minutes max.
Real Whipped Cream
Don't use the stuff in the can. Buy a carton of real whipping cream, get out your electric whisk or roll up your sleeves, whip that cream until the consistency changes to whipped cream. Add a little vanilla essence and some sweetener to it. When you top your dessert, add a tups of freshly grated nutmeg for that wow you don't realise you needed in your life!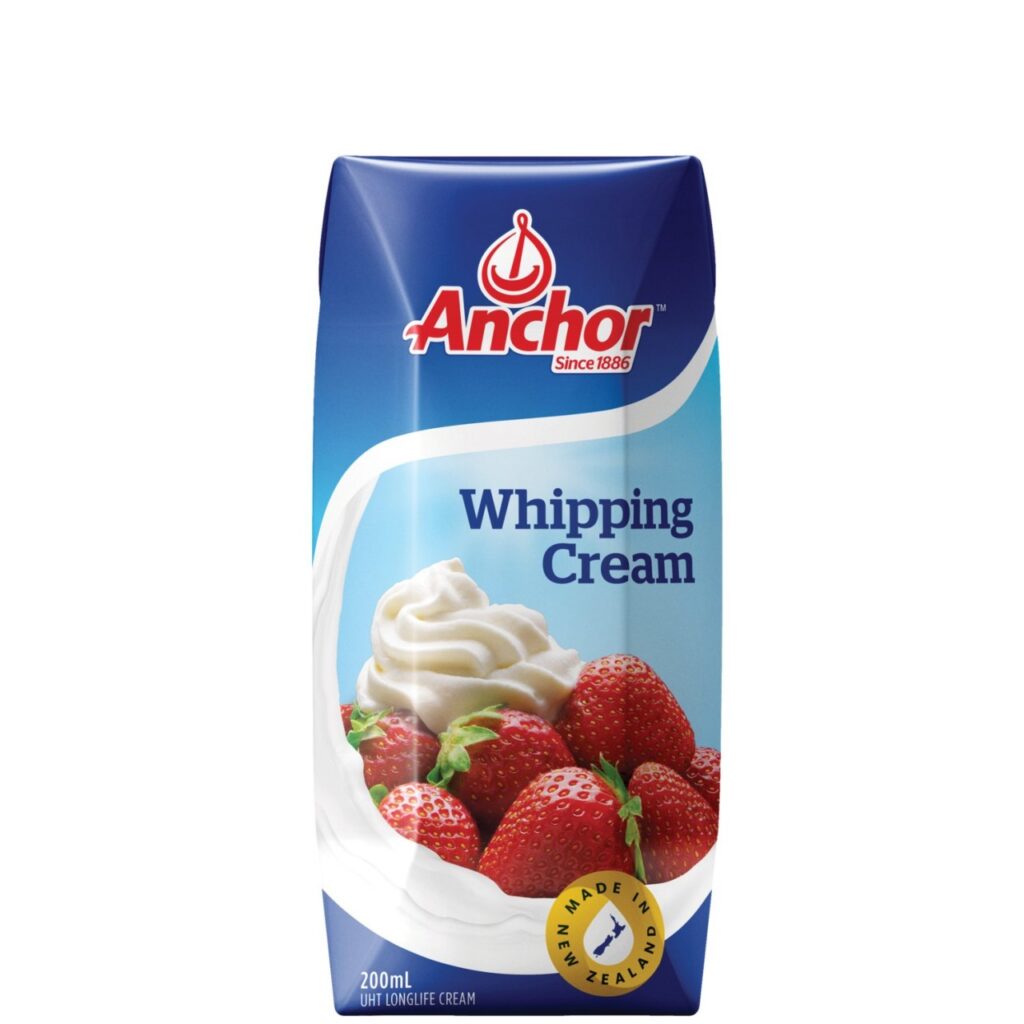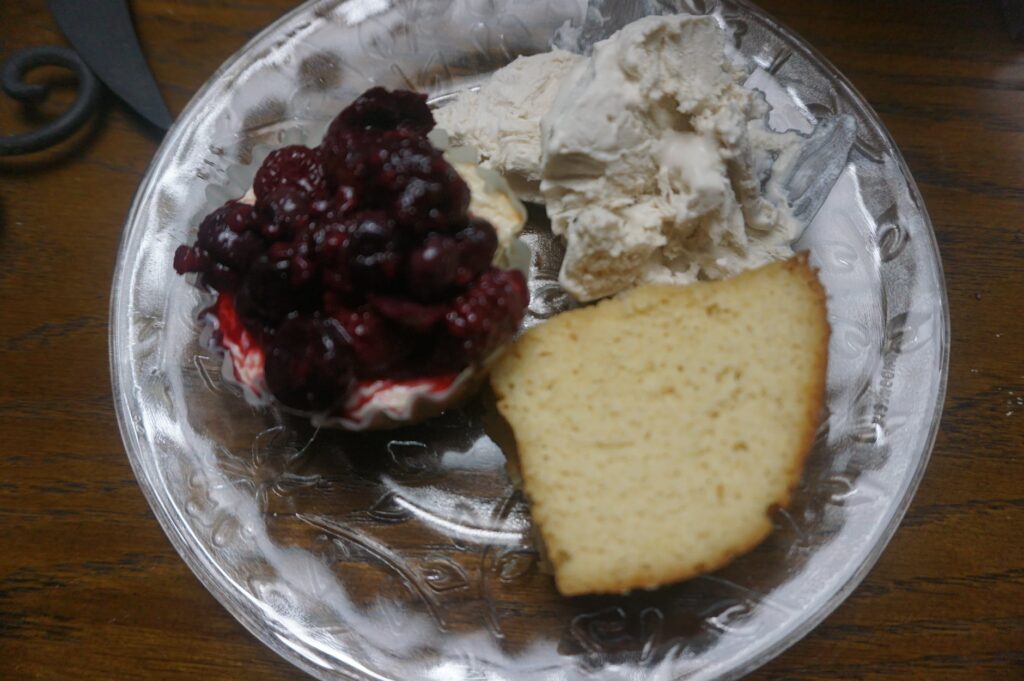 Your Own Low-Carb Christmas Dinner
Between this post and it's first edition done in 2018 and linked at the top of this post, you now have enough great ideas to enjoy Christmas and stay on track. "But it's just one day, Kelly! Why stress? Live a little! Eat the traditional Christmas Food?"
I hear you and I respectfully say No Thank You. Why? I don't have to. I have delicious options. I've come too far. I know what those foods do to me and how they make me feel. And for me, I am aware that one cheat meal can very easily turn into several cheat days. It's the nature of carbs…they're addictive and if you give them an inch they'll take a mile.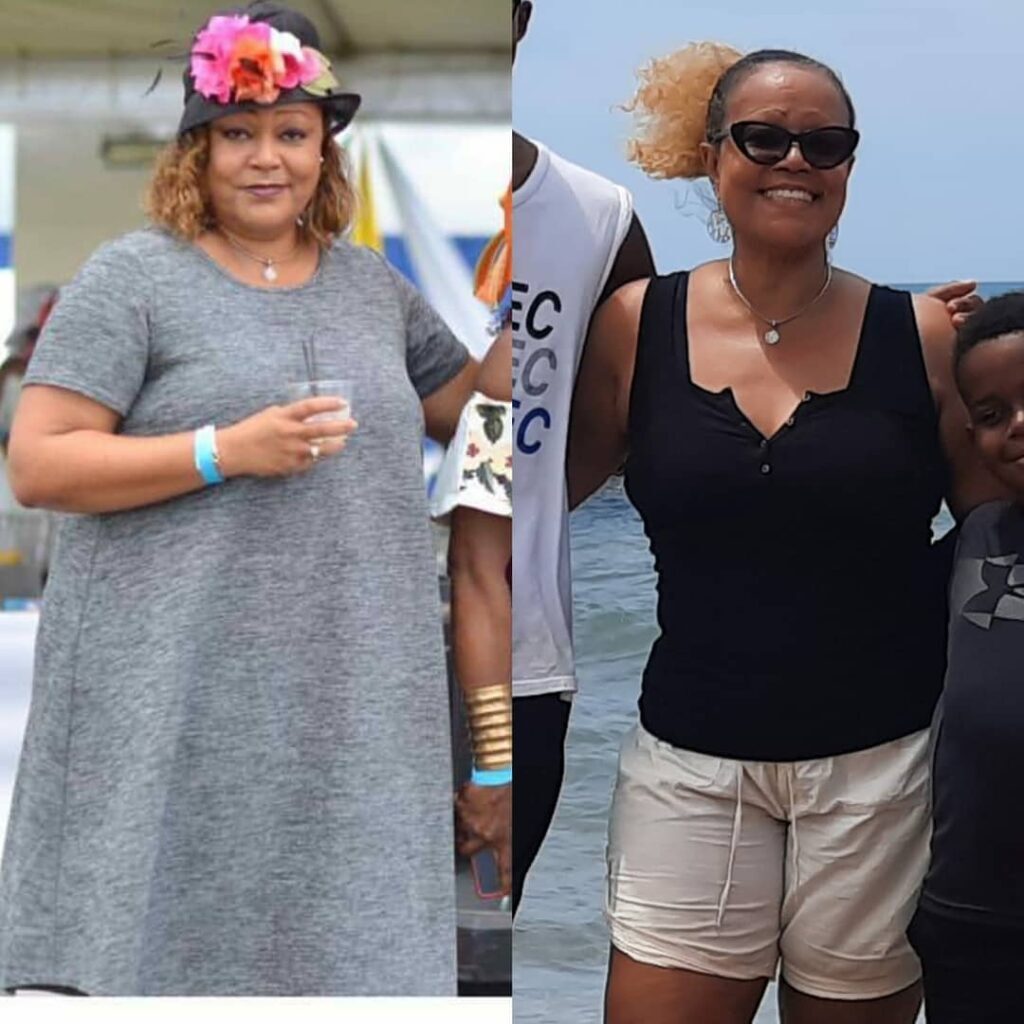 I'd love to hear about your own Christmas Keto Caribbean dinner. Please let me know how it goes!