It's more about the life you gain than the weight you lose.
I promise not to be preachy. There's nothing more annoying that someone who's lost 3 lbs preaching all chirpily about the benefits of weight loss from a lofty place on high. "You can do it! Yes you can!" As if we don't know when we've gained a few…or a lot… I mean WTF!
I'm fat. So what? Leave me alone.
Of course I know I've gotten bigger.
I am the one pulling up my pants every day, trying to zip it up and breathe at the same time. I am the one who ends up wearing the same 4 outfits in cycle because nothing else fits. I am the one who no longer posts pics of me online because no pic really looks "right." I am the one who only feels good about myself for a minute, that minute when I'm mid-way through seconds of rice n peas with extra mac n cheese. Let's not speak of the minutes after that delicious meal when I'm full to the gizzards and I start the count-down to the heartburn that is inevitable, when self-loathing replaces that temporal, fleeting moment of pleasure courtesy of the food. I'm the one who says no to every invitation to the beach, to hike, to hang out at a bar, to go to brunch. "I'm an introvert" I rationalise, as I curl in on myself. I love my own company. (So why am I bored and lonely and feeling unloved?) And once we hit 45, let's add physical ailments to the mix. Heartburn. Lethargy. Fatigue. High blood pressure. High Cholesterol. Adult acne. Joint pains. Foggy brain.
But if you're like me, no amount of "Yes You Can" messages will move you. Truth be told, there is nothing more irritating than someone trying to convince you to "C'mon over and be happy." So this is not about trying to convince you that weight loss is the pancea to all woes, and that the keto diet is the way to get there. I had to make that decision all on my own. I simply tell my own story, perhaps show other examples of people who moved from unhappiness to happier in the hope of showing you that you don't have to settle. I reached a point where I knew that if I continued along the trajectory I was on, my quality of life would degenerate to intolerable. Seriously. Please read on.
Losing the Weight: My Tipping Point
I was getting bigger and bigger. I saw it in the pics that I discarded one by one. I felt it in the work pants getting shorter and shorter. I heard wheezing and panting in meetings and was appalled when I discovered that it was coming from me. I was a half inch away from requesting a seat belt extender on that flight. Even my shoes looked funny under pressure from the weight from above on my expanding feet. I lacked energy. I was increasingly a slave to my moods. My sleep had started being interrupted by acid reflux. And then I saw a pic that my daughter took of me at the beach in August 2017. The beach is my happy place. And we were doing what we do best: road tripping to another beautiful spot on my island home Jamaica. Jerk and rum and family on this beautiful beach spelled perfection, right? Until I saw Rachie's pic. "Trash that!" I screamed in horror. But the image was indelibly etched in my mind. That pic was my own tipping point. It was time to take control.
CONTROL, not Weight Loss
I'm not yet where I want to be in terms of weight loss after more than a year of taking control. But I couldn't be happier. You see, it's not about losing 50lbs = happiness. Nope. For me it has been about taking charge, taking control and actively changing the thing in my life that was causing me unhappiness. I wanted to feel better and look better. So I did what had worked in the past and cut carbs from my diet. I knew it would work for me again. I didn't think it would be so slow though. This time around I didn't quit. I worked the process. I knew I was doing the right thing, plus I was feeling so much better even though the pounds weren't coming off as quickly as I'd have liked. I was in control.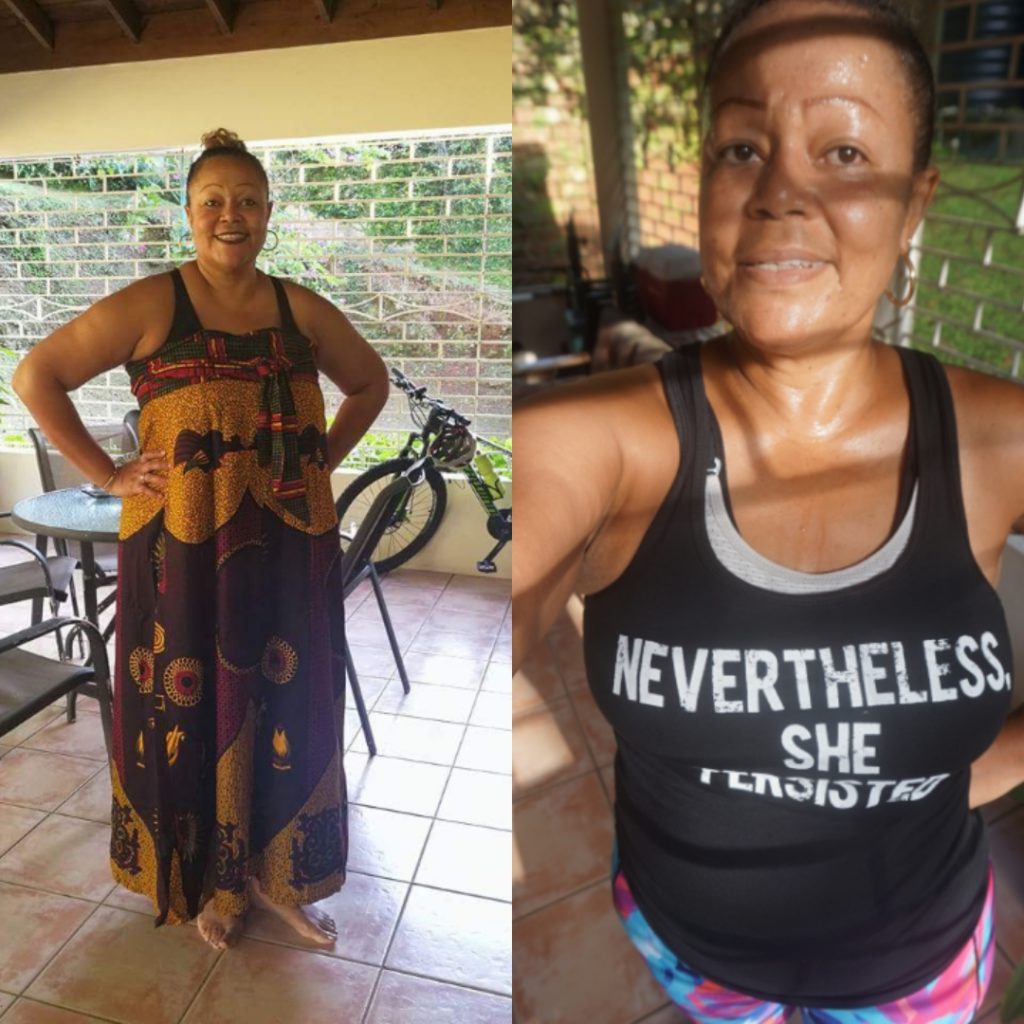 There's no better feeling to me. I had control over food cravings. I decided what I put in my mouth or not. I decided when to drink alcohol or not. I knew that I was no longer a passive participant in this unconquered area of my life. It was a slog, but I was slogging! And you know what? The wheezing and heartburn and fatigue and acne all disappeared and then people started noticing my shrinking body. I felt so much better about myself and I was actually able to enjoy all the things I enjoyed before MORE! How could I not enjoy road trips and beach excursions more with my newly clear mind, my energized body, zero heartburn, all while not being a slave to the food? Priceless! My self esteem went up as my weight went down, but listen carefully… It is not the weight loss that caused me to feel better about myself. Sure I loved how I looked with fewer pounds on me. God knows I couldn't stop taking selfies. My self esteem went up because I was changing something in my life that I wasn't happy about. I felt better about myself because I was in control. I was no longer a passive participant wringing my hands, lying to myself, propping myself up with all the lies I told myself as I tried to ignore what gaining the weight was doing to my spirit and body. That made me feel powerful and strong and it felt damned good.
Carolyn's Weight Loss Story
Carolyn is a remarkable woman who took control. She gave me permission to share her story here:
I got up one morning last year the end of May or the beginning of June and got on the scale and it read, 280 lbs. Couldn't believe it; I was back up, another time in my life, for the millionth time. My mom had me on my first diet in 2nd grade. I grew up in the 70's and parents would make you stay at the table until you finished every bite no matter how much was left.
When you're over-weight as a child, school can be hard but it didn't slow me down. I was a very active little girl. My mom had an Italian friend who made everything Italian from scratch, she said lose 15 lbs and I have a gift for you. Well I did and she gave me a homemade pizza, ate whole thing. What was the point.
My mom and I have done every single diet over the years to lose weight then I would put it back on. My dad weighed over 400 lbs most my life and he would comment on my weight. I was 160 lbs entering 7th grade but I was almost 6 ft tall. The other girls were 100 lbs and teased me to death so I just hung out with the kids that didn't fit in. During this time, I was molested by my fathers friend and no one believed, it actually started at 9 years old but I was too little to understand it was wrong. I think I put on weight for protection. Didn't have boyfriends until high school and did go to prom and all other school activities.
The man that did those things, has been dead 20 years now and my dad 4 years. I've decided to not let either of them rent a place in my brain. Fifty years of torment is more than enough. After getting out of the tub one night, with help, and powdering every where and trying to squeeze into my jammies I realized I was punishing myself for the sins of others. I was miserable and almost thought about taking my life. Then I realized I had a hubby who loved me and children who needed me and I decided I couldn't give up hope. I pulled the old Atkins book out and my calorie book and got to it.
Now it's way over a year and the time has flown by. I moved from a size 24 pant to a 12, 3x shirt to a large woman's, sometimes XL. I got back to working, going to church and being the best damn granny I can be. IF I CAN, YOU CAN. I'm able to take better care of my home. My depression is gone. I stick to 10-12 carbs a day. My cholesterol is very low and I'm off my opiates for pain. It is amazing how wonderful I feel. Also due to trauma, I turned to alcohol and almost lost everything. Good news, with the help of AA, I've been sober 16 months.
Lose Weight, Gain Life
It's not about willpower, Guys. I'm convinced. It's simply about taking control. I wrote about the fallacy of willpower and weight loss here.
You lose weight when you decide you want more. You DECIDE to take control, and that feeling and looking better is worth more to you than another slice of cake. Then once you decide, you make a plan. My plan included cutting carbs and going on the keto diet. I answer some tough questions about the keto diet here. I had support from my family and joined some online low-carb/keto dieters support groups. I drew encouragement and inspiration from them all.
And you know what, I couldn't be happier. That's why I can post that pic of my 50 year old self stretched out on the beach in my swimsuit. Why not? I am proud of myself for getting to here. I feel great. And I was in my happy place. Am I anywhere near super model status? LOL! No. Am I going to wait until I get there before posting a swimsuit pic? Absolutely not. Know why? I've lost some weight, but I've gained a whole lot more: better health, renewed energy and increased self esteem. I'm living my life happy. That pic shows it and I want to share my good news. Simple.
Call to Action
Are you happy with where you are in your life? Does your current weight and health have any thing to do with how happy or not you now are? What prevents you from taking control?
It's easier to listen to the lies we tell ourselves sometimes. Those lies comfort us and numb the pain. But they eventually kill us. Lie in the silence and start debunking those lies now. You don't have to confess to a single soul other than yourself. Start be being honest about what you're unhappy about and what you want to change. That's a huge first step. Then you can make a decision that you'll support with a plan.
The keto diet worked for me, helping me lose weight and gain a life. Maybe it will work for you. Subscribe to my blog and a get a free copy of the 8 very easy recipes that helped my transition to a low-carb way of eating. I show you how to replace those familiar, carby comforting foods and how to create low-carb meals that leave you satisfied on the road to wellness.