Public transport in and around Jamaica takes various forms depending on where you're located and where you want to go. Three people close to me have been sharing their experiences using public transport and it got me thinking. I compared their stories to my own experiences back in the day (3 or so decades ago) and asked myself: Have we progressed? Are our citizens & school children able to move around comfortably and safely at a reasonable cost? Why even contemplate these issues, Kelly, I hear you asking. Get a car! But aren't you the same one complaining about the horrendous traffic in Kingston? And stressing out in your car when New Kingston becomes a parking lot evening after evening? What is the inevitable result if we all move around in private cars in order to avoid the public transport system?
The JUTC, Coasters and Taxis (route & robot!): the situation in Kingston & St. Andrew… St. Catherine too
Getting around Kingston and St. Andrew, and between St. Catherine and Kingston can done via the Jamaica Urban Transit Company Ltd (JUTC) services. In their own words, "The Jamaica Urban Transit Company, JUTC, is a household name. The wholly owned Government run public transportation company opened its doors in July 1998 providing a vital service for commuters who at that time demanded a decent and structured public transportation system within the Kingston Metropolitan Transport Region, KMTR, due to the haphazard system that existed."
Their service is supplemented by Coaster buses, which are legally supposed to seat 22 people. That's what the Ministry of transport says here. Of course they transport waaay more passengers than that. They are "legal" and bear "red PPV plates" signalling that they are licensed public passenger vehicles. They are known for their colourful decals all over the outside of the vehicle, their loud music, their overcrowding and their fast and reckless driving.
Commuters also move around Kingston in cars which are either route taxis (again, legal, with red PPV plates) or their illegal counterparts referred to as "robot" taxis. These cars are packed and are characterised by their dangerous driving, and there are many horror stories about robberies, rapes and even murders at the hands of operators of especially robot taxis.
And outside of the metropolis?
So what's the situation outside of the corporate area? There is no JUTC outside of Kingston. There are mini buses, route taxis and yes, robot taxis. There are mini buses that will take you from the various parish capitals and towns, to Kingston and back again.
The Business Model Impacts the Quality of Service
It is important to note that public transportation runs on 2 basic models: a true public transport system (the JUTC) not driven by a need for profit (but that comes with its own downside) and a for-profit model which where profitability depends on maximising the number of trips per day and the number of persons per trip…a recipe for chaos and danger.
Remember the JOS? A trip back in time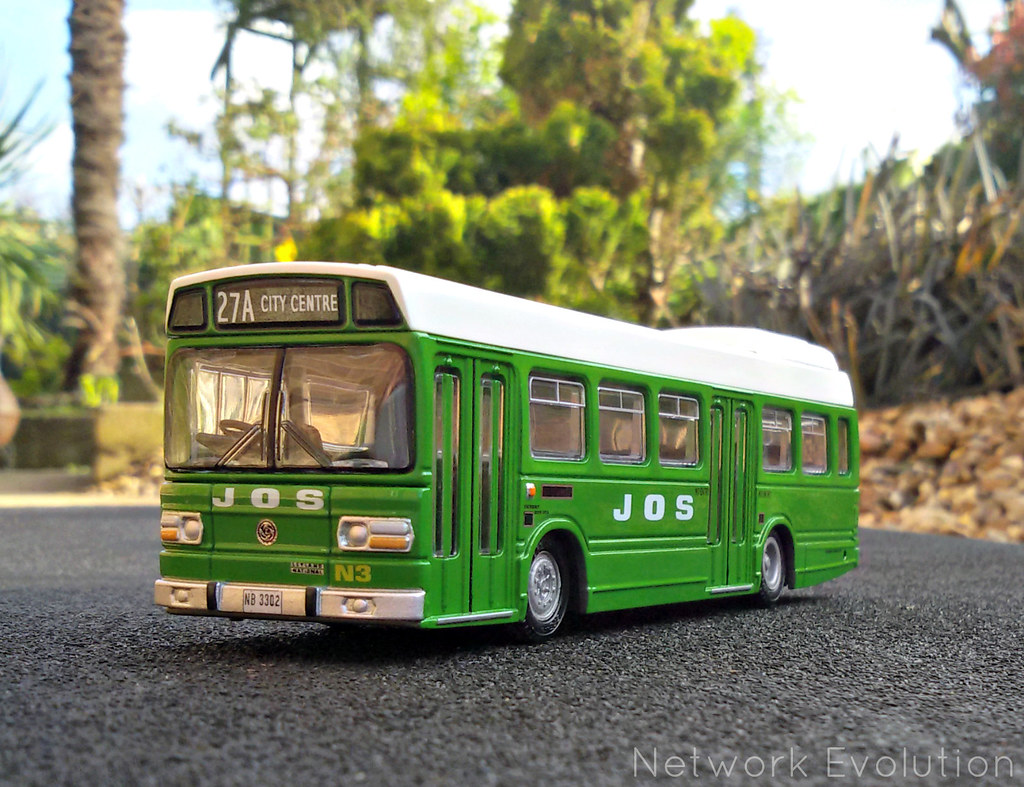 I started using public transport here in Kingston, Jamaica at the age of 6. I got a lift to school in the mornings, but in the afternoon, a group of about 4 of us who lived in the same community, took the bus home from school. In those days, we took the state run Jamaica Omnibus Service (JOS… JUTC's precursor) bus, the number 22, from Mona Heights to Cross Roads. They ran on schedule, we boarded from the back of the bus where we tendered our fare to the conductress, received a ticket and most times, we got a seat. When you wanted to come off the bus, you simply rang a bell by pressing a button or pulling on cord, and he bus stopped and you disembarked.
Minibuses co-existed with JOS in Kingston
When I started high school, still in Kingston city, I used to take the bus to music lessons twice a week, after school. This option from Cross Roads to New Kingston, was the 38 bus, a mini-bus. They ran regularly, but they were always jammed packed. I quickly got used to being squeezed up in the seat or standing, back bent at an almost 45 degree angle for the duration of my journey. Not fun. When I wanted to disembark, I had to shout out "Bus Stop". Ugh.
Journeying between Town and Country back then
When I started post graduate studies at University of the West Indies, before my project was assigned a vehicle (early 1990's) I relied on public transportation to get to the rural parish of Manchester where I was conducting field trials. I took mainly coaster type buses, bigger than a minibus, smaller than an omnibus. We were tightly packed in for the then 3 hour commute. I think the most traumatic part of that journey was entering the bus park and being forcibly herded into a bus by the ubiquitous "loader man". This happened in Kingston and on my return journey from Mandeville.
Before my time, travel between Town and Country was done on big, slow buses called Jolly Josephs. Fun times, right?
Modern Day Public Transport in Kingston: Tales from the Front Line
I am now an adult woman over 50, and I haven't used public transport in almost 30 years. Have things improved though? Have they gotten more harrowing? My own children use public transportation now. My 24 year old daughter takes JUTC (JUTC replaced JOS), taxi cabs and what we call "hilly buses", mini-buses that ply the route from the foot of Red Hills where JUTC buses terminate, to Coopers Hill where we live.
My almost 17 year old son, a high school student in Kingston, takes the bus home after school most week days. He takes a JUTC bus to the foot of the hill, then a "hilly bus" up the hill to get home.
They both report zero issues with JUTC. We were able to check the JUTC bus schedules online here and plan accordingly. Nick takes an express JUTC not far from his school's gate, and it takes him straight to the foot of the hill. He can't travel on a student fare, though, which is less than a standard adult fare. But being able to take a single bus, not as packed bus, straight to the foot of the hill, makes it worth it. The alternative would be 2 buses from school or a longish walk to Half Way Tree bus depot, then on to Hill Foot. Nah. Rachael reports no serious issue with JUTC either. They're slow, yes, but with proper planning and personal scheduling, a valid options. The free wifi is a nice touch too. On days when his schedule makes taking the express impractical (the express buses don't run as regularly as regular buses…only set times), Nick has seen his express heading in the opposite direction, and the bus driver recognizes him, and even waves to him! How's that for a sense of community 🙂 I like it.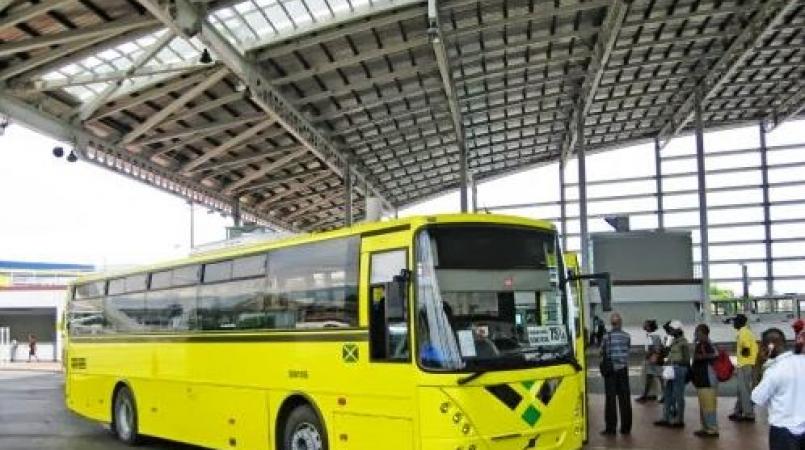 JUTC works. But the mini-buses? Whew.
But from foot of hill to Coopers Hill… now that's a different story. That route is serviced by small yellow minibuses, meant to seat 15 I believe. I think they're called the number 48 route. They go from Pricerite in Meadowbrook, to Rock Hall. No, JUTC doesn't ply that route. You never have to wait more than a few minutes to get one, they're that many of them. But therein lies the rub… Nick calls them Suicide Machines. They are all competing for the same number of passengers. So the more trips they make and the more they passengers they can pack into one trip, the more they can earn. UGH. They drive like maniacs up and down that hill! In uniform, Nick is supposed to pay student fare. But he quickly realized that paying a student fare gets you seat around the back, where they squeeze 5 to what should be a row of 3. He now insists on paying full adult fare and sitting in the front of the bus as far as possible. He once told me that a fat school boy was refused entry on the bus. The young man insisted on paying the student fare, but would have taken up 2 "student" seats so the bus operators refused to take him. Painful. Gosh.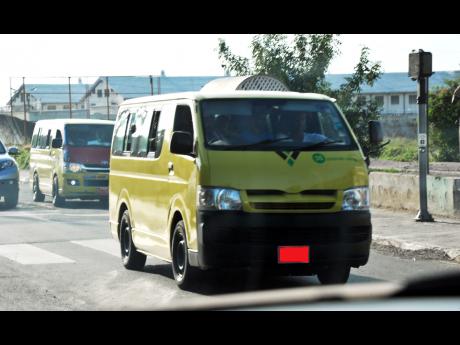 Public Transport Between St. Catherine & Kingston: Tales from the Front Line
My friend Raymond who lives in St. Catherine but operates his business in St. Mary, had reason to use public transportation for a few weeks recently. Spanish Town and Portmore house hundreds of thousands of Jamaicans who need to travel into Kingston for work and school. Raymond used the JUTC service from Spanish Town to Kingston and by his telling of it, he was pleasantly surprised! There was no shortage of buses, and he paid his fare, sat comfortably, and got to Kingston safely and in what he considered to be reasonable time. Once again, a favourable report on the service provided by the JUTC.
Coaster Bus vs JUTC from Spanish Town to Kingston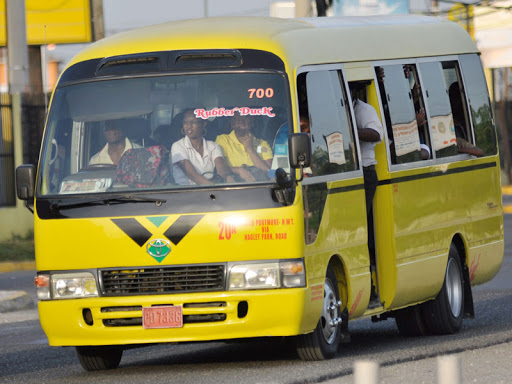 He compared the JUTC experience to the "coaster" bus service from Spanish Town to Kingston… a faster transit time to be sure, but in his words, a "horrible" commute. He felt unsafe with the speeding that characterised the entire journey. The music was loud to the point of being deafening the entire way. He reports that one passenger asked the driver to turn down the music and the driver advised her that her best option would be to get off the bus. Go figure. Raymond questioned why he opted to take the coaster in the first place? Even the coaster fare is more expensive than the JUTC dare. The only thing he can come up with is that the coasters are right in the middle of Spanish Town, whereas the JUTC buses are in a terminus that require a little bit of walking to get there. He did observe though, that the bus terminus is filthy…garbage everywhere.
When he got to the Half Way Tree, he told me that he was pleasantly surprised. He wanted to continue his journey up to the Constant Spring tax office. The JUTC Customer Service reps in the Transport Center there in Half Way Tree were courteous and helpful. He made it to Constant Spring no fuss, no muss.
Public Transport in Country: A Different Story
Rural Jamaica is another story, however. There is no JUTC in St. Mary where his business is. Getting from Highgate to Port Maria is by way of route taxis. These are cars, mostly station wagon type cars, officalized by their "red plates" which signifies that they are PPVs (public passenger vehicles). There are lots of them. They, like the yellow hilly buses, are a "for profit" operation. So, yes, you got it… the more trips and the more passengers per trip, the higher the revenue. Sometimes the driver will opt to ride in the "trunk" of the station wagon while a passenger drives, allowing him to maximize his earnings over a single trip.
There are also mini buses, also red-plated, and there are lots of them. Raymond reports that the driving is largely decent, the conductors are well attired and polite, and there is no music and no preaching. The rates are established and known and adhered to. This was his consistent experience over the period.
Raymond noted that schools and parents made informal arrangements with various transportation providers to take their children to and from school.
BUT he opted on one occasion to take a taxi from Port Maria to Kingston. He summarized his experience in one phrase: NEVER AGAIN. He said the car was meant to seat 7, including the driver. There were 10 of them in the car en route to Kingston that day. He said that the fast driving in that crowded car over the Junction road was traumatic to say the least. Guess how many wore seat belts? The driver was able to elude police along the way. One hand was on the steering wheel, one hand held his phone which had his taxi man whatsapp group up and running. He was advised by his colleagues of where every police check point was and the best route to avoid that spot.
Taxi Service in Kingston: safety & law and order considerations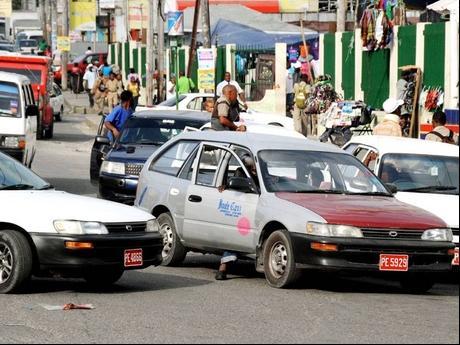 Let's talk about the taxi service in Kingston. There is no shortage of official taxi companies. However, if you have not made prior arrangements, getting a taxi in peak hour will be challenging. Also, there have been horror stories of passengers booking a ride over the phone, only to have a taxi turn up which was not the one the taxi company said they would send. Some theorize that there are former employees of various taxi companies who retain the radio and are able to hear the bookings being made and then intercept, all with a view to a best, hustle a fare, at worst rob and rape. And yes, that has happened to several.
There are taxis which we refer to as "robot" taxis. These are cars that are not licenced as PPVs, but which ply popular routes such as Half Way Tree to Papine, or Pricemart to Half Way Tree via Red Hills Road or via Molynes Road. Take these at your peril. They're PACKED, they're reckless and they're illegal. Route taxis which are red plated, also pack in passengers and bob and weave from point A to point B with nary a concern for their own safety or the safety of others. There have been literal horror stories of people taking these robot taxis who end up robbed, raped and or murdered. These cars are lovingly referred to on Jamaica Twitter as "taxi germs". They create pure mayhem on the roads with their arrant disregard for the road code, speeding, executing illegal turns, running lights, overtaking like illiterate lunatics, creating thrid lanes at high speed. That they keep running, speaks to 2 things: firstly, there is a demand for fast, frequent service on several routes in the corporate area. Secondly, why are so many illegal taxis allowed to operate? Who owns them? Hmmm….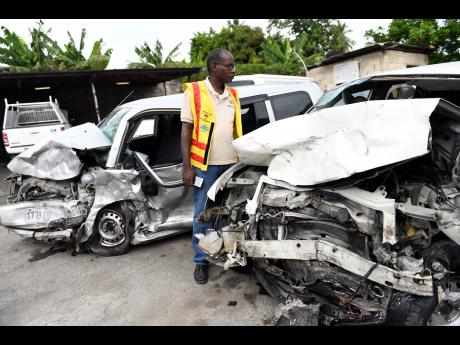 And a perspective from Montego Bay…
In Montego Bay, where my daughter lived for 3 years while attending university there, there is no official taxi company that you can call and book a ride. Nope. You gotta go to the nearest "taxi stand", make enquiries there and hopefully get a phone number from a good operator that you can then call in a bid to secure his services in the future as your need arises.
What is the solution to our public transportation woes?
In sharing some of these anecdotes, so many people have said to me "get your kids a car!". Raymond himself has said to me that he'd do whatever was needed to ensure that no wife or child of his had to take public transport. My friend from Twitter, Dale, told me that when he started working, his burning goal was to get a car so his sister and mother could stop taking public transport. Yes, some of us can circumvent the public transport system due to our personal resources. But we all can't fit on the roads, and some of us don't have the means to own and operate a car. A safe, reliable public transportation system is critical to our national development. I think its safe to say that as a nation, there is ample room for improvement in our arrangements to move our people around safely and efficiently.
We deserve and need safer more comfortable way to move our citizens and our children around Jamaica, between our towns and cities and within our towns and cities.
Share your own experiences, please. They are important.