Road trips rock! And on an island like Jamaica, the options of where to go and what to do are endless. What's not to like about a road trip? The open road (and we have highways that take us from north to south and back again with ease and breathtaking vistas, as well as from central out west), good company, the prospect of an adventure or two, the certain knowledge that you'll meet memorable characters along the way and the promise of food! And even if you're keto like me, there's no reason why you can't honour your keto way of eating while on a road trip in Jamaica. In fact, it's easy! Here we go…
Road Trip in Jamaica: Where to go and what to do?
So if you've been following my blog over the past few years, you know that my family and I live for road trips. A particularly memorable road trip was one to South St. Elizabeth to the Zoo and then on to Jack Sprat for lunch.
I also wrote about  my escape to the hills and forests of Jamaica right here. A beach or a mountain excursion is never more than a few hours' (at most!) away.
A road trip in Jamaica can be just for a day or you can spread it out over a few days if you wish. I'm a real fan of the day trip. It's budget friendly and you get to return to the comfort of your own home at the end of the day.
6 Reasons to do a Road Trip in Jamaica
Why not! I love road trips In Jamaica for the following reasons:
Easy to plan. If you keep up with the Thursday Gleaner where they highlight all the local food spots and if you keep up with me on social media (all my buttons are on the home page…) and this blog (shameless plug) and other great accounts on social media like PripsJa and Travel.Jamaica you'll have no shortage of ideas.
No major commitment involved: it's only a day out of your life if it's a day trip. Wasn't enjoyable? No biggie. Tomorrow is on its way. And even if it is spread out over a few days, a new day in Jamaica, Home of Alright, is the promise of better. I promise you.
Budget friendly: all you need is a full tank of gas and your igloo packed with snacks & drinks that you can buy at the supermarket. Of course, if you have a budget with more room, let's move straight to reason number 4…
Food! Jamaica is known for its street food options (from jerk pits, to fish huts, to patty places to interesting restaurants all over the island) and what better way to experience them all than on a road trip with kindred souls  and like minds. And if you're like me, a keto Jamaican, keep reading. I'll show you how you get to road trip and eat (not your cake) too.
The variety you are guaranteed to get: you are guaranteed to enjoy vistas of the hills and the coast on any road trip you embark on in Jamaica. Don't forget the rivers too! And wherever you stop you will meet the most interesting characters, from the bartender who'll give you extra white rum in your cup, to the soup lady flirting with your man, to the tourists enjoying our natural bounty, to our bright, beautiful children you'll meet along the way.
Rest and relaxation: Life can be tough. We have to nurture our souls and bodies and spirits. For the past year I've been on a journey to wellness, changing the way I eat to a keto diet and moving more. A critical part of any weight loss programme is getting enough quality sleep and avoiding and reducing stress. Did you know  that stress releases the hormone cortisol which causes you body to hold on to (horror of horrors) BELLY FAT? To my mind, anything that prevents my body from flooding itself with cortisol and holding on to belly fat is a darned good thing. As we would say in Jamaica: "Whe cortisol ah go when mi a drive through Holland Bamboo ah snack pan pepper shimp and drink fresh coconut water ah look pan di sea?"  Translation: Cortisol doesn't stand a chance when I'm driving through beautiful Jamaica eating the best food while looking at the sea."
Road Trip in Jamaica: Eggy's in Treasure Beach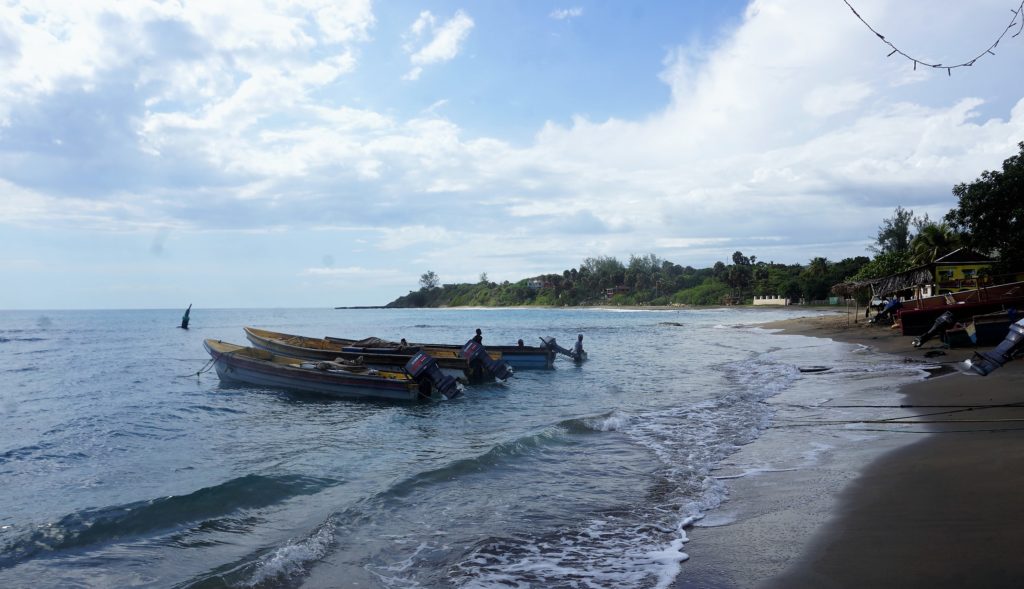 We love south St. Elizabeth. It's an easy, beautiful 3 hour drive from Kingston. The highway takes you about one third of the way to May Pen and then you drive on relatively good roads and some older highways through Manchester, descend Spur Tree Hill to breathtaking vistas of the bread-basket of Jamaica, St. Elizabeth. The alumina plant and the windmills and the plains of St. Elizabeth are the vision before you as you descend. Driving south through thriving rural communities like Junction, Southfield, Nain and Lititiz is simply a treat. Where else will you see fields of melon, escallion and thyme on large and small plots? Where else will you see piles of produce neatly packed and waiting for pick-up to be carried to urban centers to be sold? As you begin the actual descent into Treasure Beach, that delightful model of community tourism, located right on the coast, the sight of the blue Caribbean Sea causes your shoulders to relax and you feel your breathing automatically start to slow down. For real.
We were on a business mission in Southfield and decided to make a day of it just a few more miles down the road. Business completed, we headed for Treasure Beach. We drove around the community just because. There are so many hidden gems in terms of villas and lodging options! I had never toured the Old Wharf part of Treasure beach before and was blown away by the idyllic tucked away spots, mere steps from the beach.
By now, we had worked our way through our water and nuts that we carried with us for the road trip. We are, after all, keto Jamaicans, and like all good ketogenic dieters, we are always prepared! But we were now hungry. Our normal go-to spot for food in Treasure Beach is Jack Sprat, and it truly is a lovely spot with great, fresh food, reasonable prices, a great bar and an unbeatable ambience (think sitting under the trees right on the seaside with wafting reggae music). But about two years ago we were having breakfast on a nearby property and spotted a shack right on the beach that we identified as a fish hut. We determined to visit it some day, one day. Today was that day!
Getting to Eggy's
Now we didn't even know this fish hut had a name! My husband stopped at an establishment that we figured was near enough to where a turn-off to our destination was likely to be. He described what we were looking for and sure enough, we discovered that our destination had a name (Eggy's) and got final directions . So we squeezed our small car through a narrow gate. We emerged in a compound with small houses, with children playing and fishermen preparing their nets and pots. We tucked the car in as unobtrusively as possible and unfolded ourselves. We were reassured that indeed Eggy's is "just roun' deh so" and that we could "walk yah so." Woohoo!
Road Trip Gold: Eggy's!
Eggy's is a small hut, right on the beach. We stepped up about 3 steps and were greeted by a tall, rangy, light-skinned rasta-man who identified himself as Eggy. He's literally the head cook and bottle washer, doing it all by himself! He is bar tender, chef, cashier and host! H ordered drinks (yes, you can drink on keto. Stick to zero-carb spirits and eschew sugary chasers. I have limited my drinking though because even though my drink of choice- rum- is low carb, alcohol kicks you out of ketosis and you'll stop burning fat in that instance) for us and we invaded a table for 4 occupied by a woman on her own.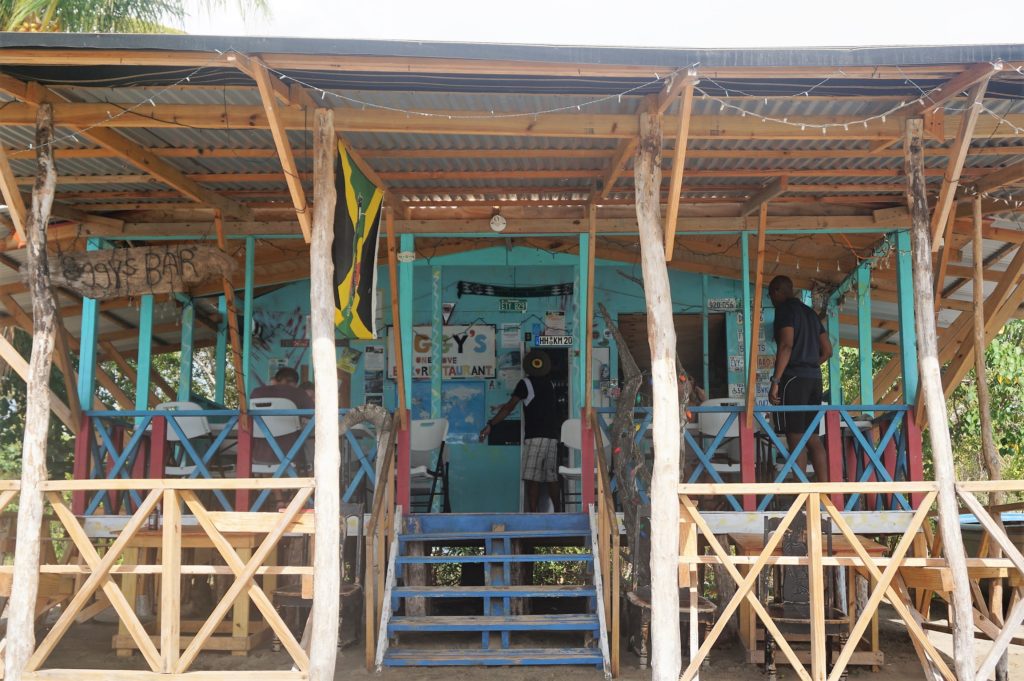 She was very gracious and allowed us to join her. Her food looked delicious! She was having curried shrimp and veggies and steamed bammy. We introduced ourselves and Pam made us feel welcome. We learned that she was celebrating her 25th wedding anniversary in Jamaica and that her other half was back at the hotel getting a massage. We told her that we were on a day trip from Kingston. Pam was in awe of the beauty of Treasure Beach. So were we. We always are. We poured our drinks and raised a toasts to lasting marriages and beautiful Treasure Beach. Ahhhhh.
By this time Eggy was ready to take our food orders. We selected two of the largest red snapper fish that he had and asked him to steam them. We refused his suggested side of bammy (bammy is a delicious bread like delicacy made from casssava) and asked him for veggies instead. The area had been ravaged by drought so vegetable options were limited. Thank God he had the important (to me!) ones: onions, sweet peppers and cabbage! I asked him to steam everything in one pot. And he did just that. Perfectly.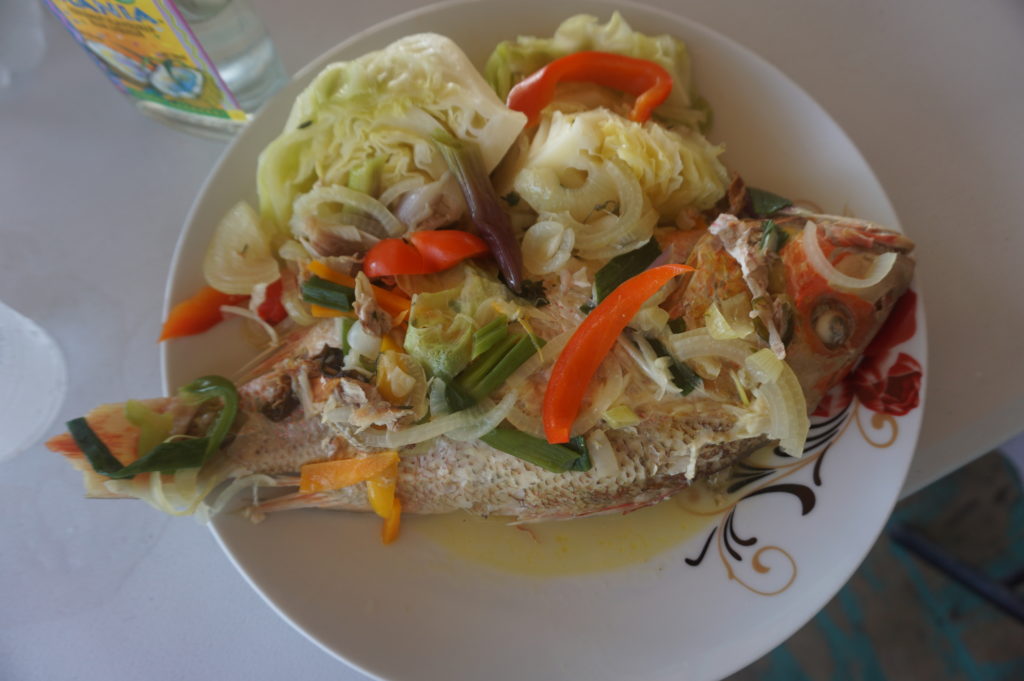 Mark, Pam's hubby eventually joined us. The rum was flowing, as was the conversation against the backdrop of great reggae music selected by Eggy's daughter (she sent him a mix tape from the USA where she was living). Oh we spoke about ourselves, Jamaica, Atlanta (where they're from) and more esoteric topics like Jamaican ganja! Pam and Mark lit up (reluctantly and only after we reassured them that it would be quite ok) and Eggy joined us on a kitchen break with his own spliff. H and I have never smoked ganja but we were curious to hear their analysis of Jamaican weed. "It gives a more mellow high" they explained. "Not like the sudden intense high of the engineered varieties available to us up north." Another couple had joined us in the hut. They were from Germany (yes, we asked!) and they too reluctantly lit up after we reassured them that in the Home of Alright, it was alright so to do! Jamaica, Jamaica, Jamaica!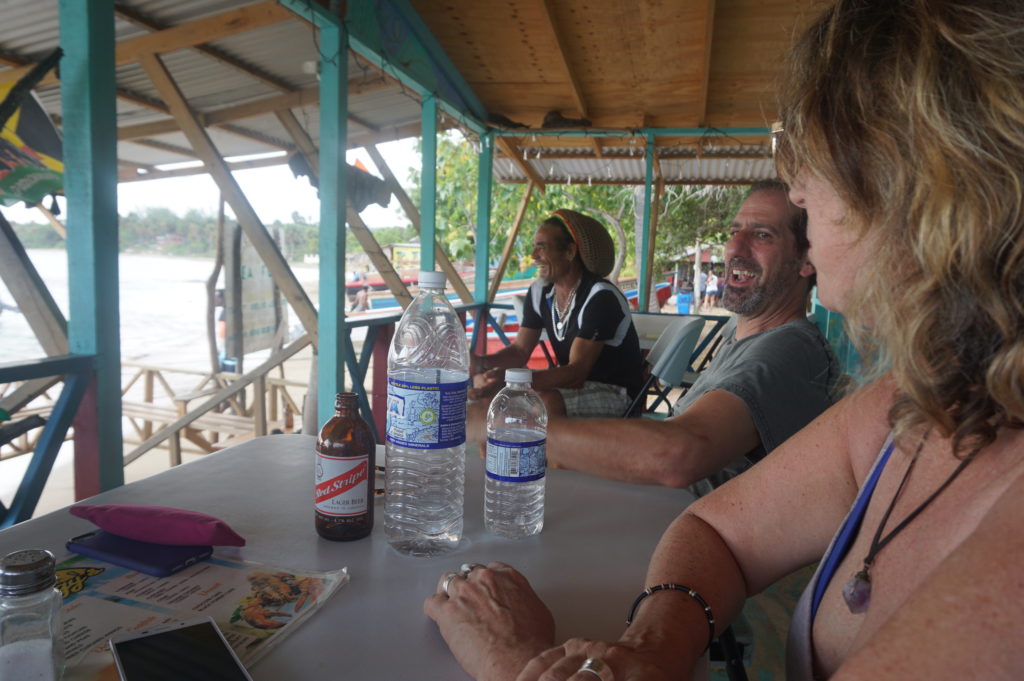 The rain came down. It hadn't rained in Treasure Beach in months! We were there on vacation in August for a week and not even once did it drizzle. Pam and Mark stripped down and rain into the sea in the rain. What a vibe! What a priceless experience!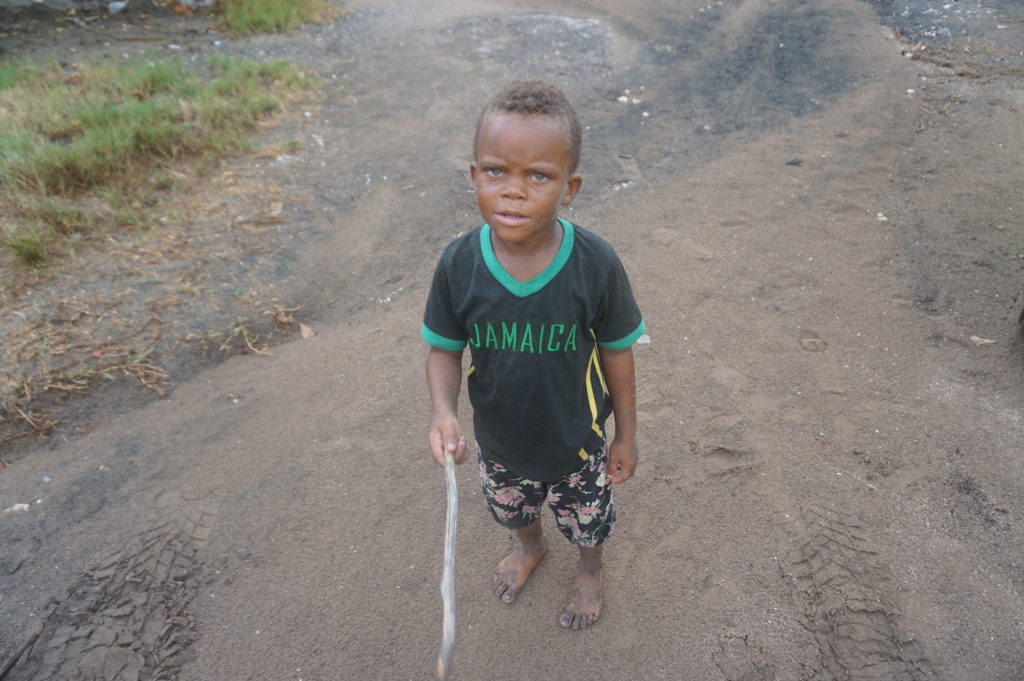 We reluctantly settled our bill, hugged and said good-byes and with our souls and bodies nourished and refreshed, head back to Kingston. We were at home and in our own beds by 9pm with only great memories of a great day. Fantastic!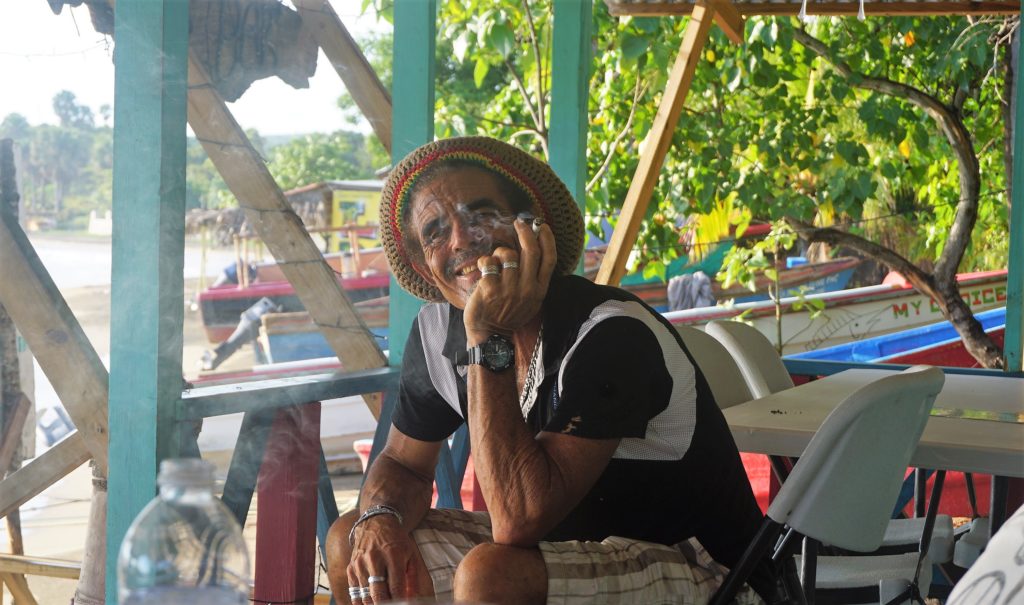 Where will you go on your next road trip in Jamaica?
Please subscribe to get new posts on our upcoming road trips. And feel free share this post in your own tribe if you think they'll enjoy it.
I also blog about doing keto in Jamaica and if you're interested in the keto diet, you get 8 east keto recipes that helped me transition to the keto way of living just for subscribing to my blog.