Most people have no problem adhering to a healthy eating plan during the week. It is the weekend that sees them undoing all the good they did during the week. It's understandable though. During the week most of us are on a set schedule with very little down time. So we get up, drop kids to school, go to work, work, pick up kids, head home, deal with our other job at home, rinse, repeat. We're busy and so we eat set meals that we prepare and carry or order and we're occupied with things other than eating. Did you get that? "We're occupied with things other than eating."  Boredom and inactivity and the absence of a plan lead to picking around and indulging and getting fat! Now I don't know about you, but I HATE having my time wasted. I can't imagine anything worse than making an effort all week, eating salads, exercising portion control, drinking up my water, consuming all the good fats and protein, pretending that carbs don't even exist for goodness' sake and then wiping out all that gain over two days. Ugh.
Sabotaging your keto program: Friday night drinking
The slow slide downhill on a weekend begins with Friday night drinks. Now I covered alcohol on keto here, and you know by now that there are alcoholic beverages with zero carbs. Yipee! Remember on keto, we are concerned about carbs. BUT if you are wanting to lose weight, I advise you to pretend that alcohol is dead until you actually start to lose weight and are at or near your goal weight. Why? Alcohol kicks you out of ketosis. While you're consuming all that glorious low-carb, healthy fats foods (think steaks, curried chicken, curried goat, jerked pork and eggs and cheese and fresh raw or stir fried veggies with loads of olive oil…yum!) your body goes into ketosis! It is now burning fat for energy, resulting in the production of ketones (hence the term "ketogenic"). Ketones are great stuff, by the way. They power all organs of the body, and have important signalling functions, especially for the brain and immune system (yet another reason why a ketogenic diet is great for diseases like Alzheimers, epilepsy, non-fatty acid liver disease and immune system related conditions). The liver produces these ketones when the body is now burning fat, but when you consume alcohol, the liver has to use its resources to metabolize the alcohol instead! So you are kicked out of ketosis, and you're no longer burning fat. If you're wanting to lose weight, why would you want any period of time when you're not burning fat? It can take up to two days to get back into fat burning mode. Make your choices wisely.
I started by eschewing all alcohol for a few months. Hey, I had a lot to lose and no time to waste. The key is to replace the alcohol drinking habit with something else. Nature abhors a vacuum and if you simply stop drinking alcohol you'll likely be miserable and deprived, and that's the quickest, shortest route to getting off track completely. Drinking on a Friday night represented the end of the work week and not having to think about grinding the next morning. I deserved to relax and indulge. So I did. Just not with alcohol. I made sure that I had something absolutely delicious and keto compliant to eat on a Friday evening. What is a keto type treat for you? A juicy steak? Lots of shrimp in lots of butter and garlic?  A double portion of succulent jerk pork? Go for it!
The keto diet on Saturday
Saturdays are lazy if you're lucky, running up and down on the road with kids if you're even luckier! 🙂 Either way, here's the thing…you're not stuck focusing on tasks at your desk or locked away in meetings. You have time on your hands, you've likely not meal prepped for Saturday and you need convenience. So you snack. And snack. And snack some more. So how do you mitigate the liability that any given Saturday can pose? You can't get away from it: you have to plan in advance. You have to have keto approved snacks on hand. Think small packs of nuts, cheese sticks, cans of tuna, perhaps a few boiled eggs in the fridge (you can boil them while you're eating your Friday night treat meal or while you're enjoying your Saturday morning coffee), sliced deli meats, pickles and olives. Have foods like those on hand so you don't eat the toast, or the potato chips, or the banana chips. Drive wide of the patty shop. Go to the jerk stand and buy some chicken and small cup of soup (without "food") and feel good about your choices. Indulge by making your Saturday morning coffee special with the addition of heavy cream and flavoured sugar free syrups. Remember my mantra: I must never be hungry. I must never be deprived.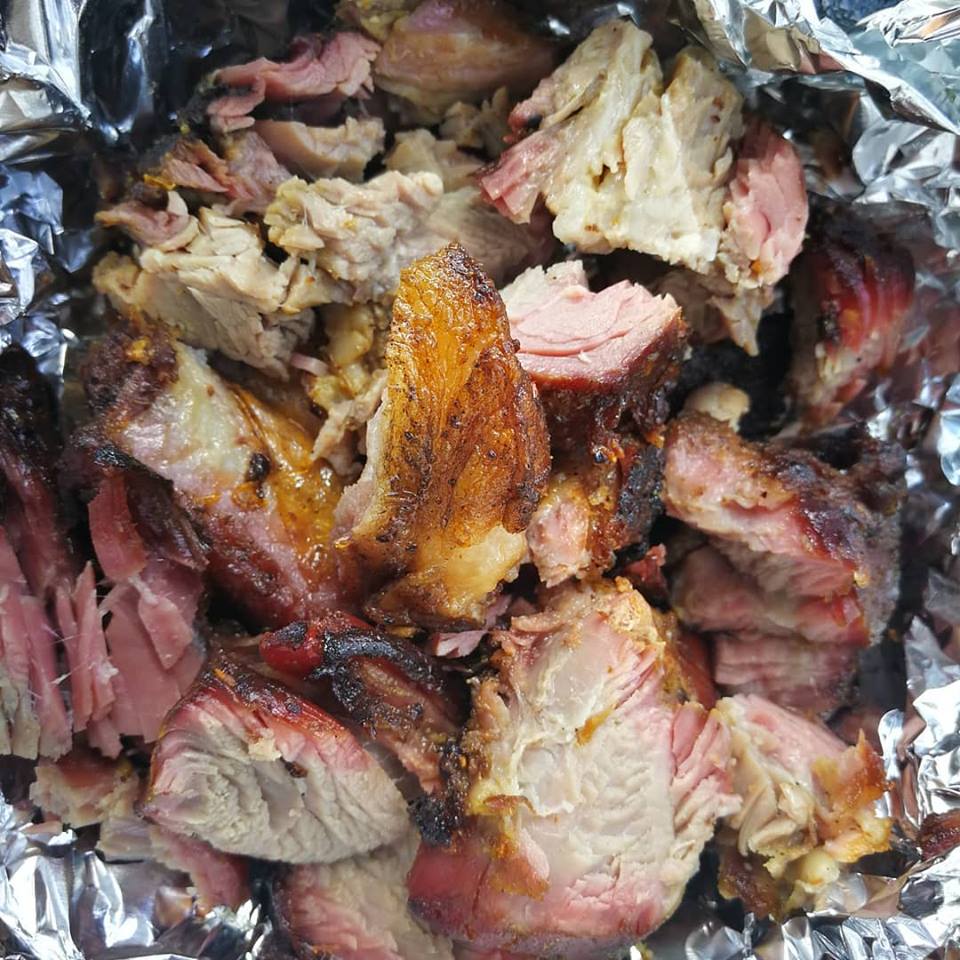 Our Caribbean Sunday Dinners and Keto
Here's where the rubber meets the road now! We in the Caribbean place a lot of emphasis on our Sunday Dinners. And I ain't mad at all! As my fellow keto dieter from Jamaica now living in Vancouver, T, observed: "I've always associated Sunday dinner with rice 'n peas, mac 'n cheese, etc. Anything that's a belly full and carbohydrate-rich." And she's totally correct. Sunday dinners in Jamaica and across the Caribbean involve sides like rice and peas seasoned with fresh herbs and simmered together in coconut milk, macaroni and cheese pie, creamed Irish potatoes, potato salad and fried ripe plantains. The thought of "healthy" or "clean" food on a Sunday makes us, well, frankly speaking, sad. It used to make me sad. Until I discovered keto. Listen, remember that the ketogenic diet calls for protein and healthy fats! Disavow yourself of all notions of dried grilled chicken breasts and trashy, dry salads. Here's how Sunday dinners roll on keto:
pot roast beef or pork, marinated overnight, done low and slow so you get a rich, flavourful gravy without the addition of sugary ketchup (yuck) or corn starch as a thickener (double yuck)
curried goat, spicy and tender with lots of gravy
Spicy baked chicken
Shrimp in garlic butter ….
Hang on, we're coming to what you're going to eat them with….
cauliflower fried rice
cauliflower mash made with lots of butter, escallion, garlic if you like, cheese
cheesy vegetable casserole (all your fresh green veggies like broccoli, cauliflower, zucchini, string beans, onions, sweet pepper cut up and lightly steamed with salt or your favourite seasoning salt, then using cream cheese to replace the traditional roux made with flour and butter and adding sharp cheddar to that glorious cream cheese and vegetable mix). Pour that into your casserole dish, top with mozzarella, bake until top is brown and bubbly. I PROMISE YOU, you will not miss mac and cheese.
crustless callaloo quiche
fresh garden salads with a little extra oomph with the addition of feta or olives or pecans and a good dressing. For God's sake, dress your salads. Ranch is good on the keto diet (check your labels for portion size and carb count, do NOT go for the Lite salad dressings…they have added sugar) or better yet, make your own dressing! Extra virgin olive oil and red wine vinegar, salt and italian herbs and fresh garlic…voila!
Fat head dough rolls or bread sticks give you the taste and mouthfeel cheesy biscuits from Red Lobster or your favourite pizza place.
And then do a dessert. You can make mug cakes (yes you can!) or peanut butter cookies or even a low-carb cheese cake!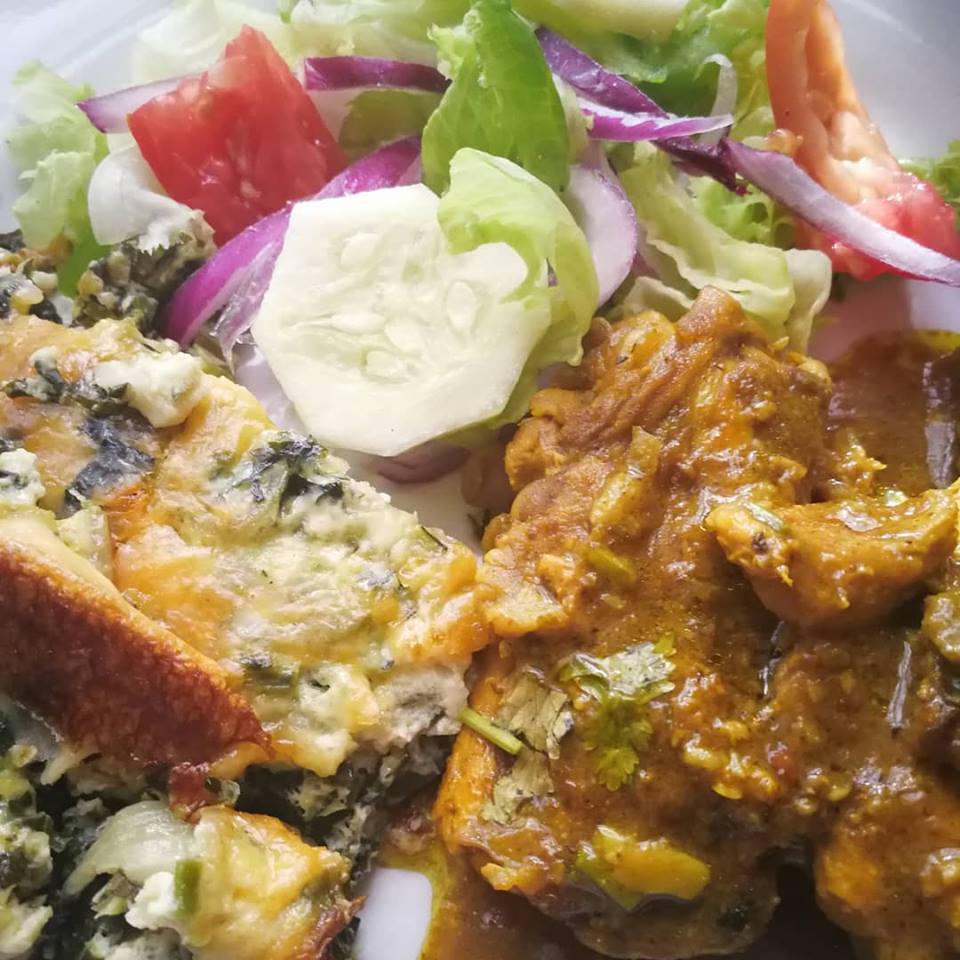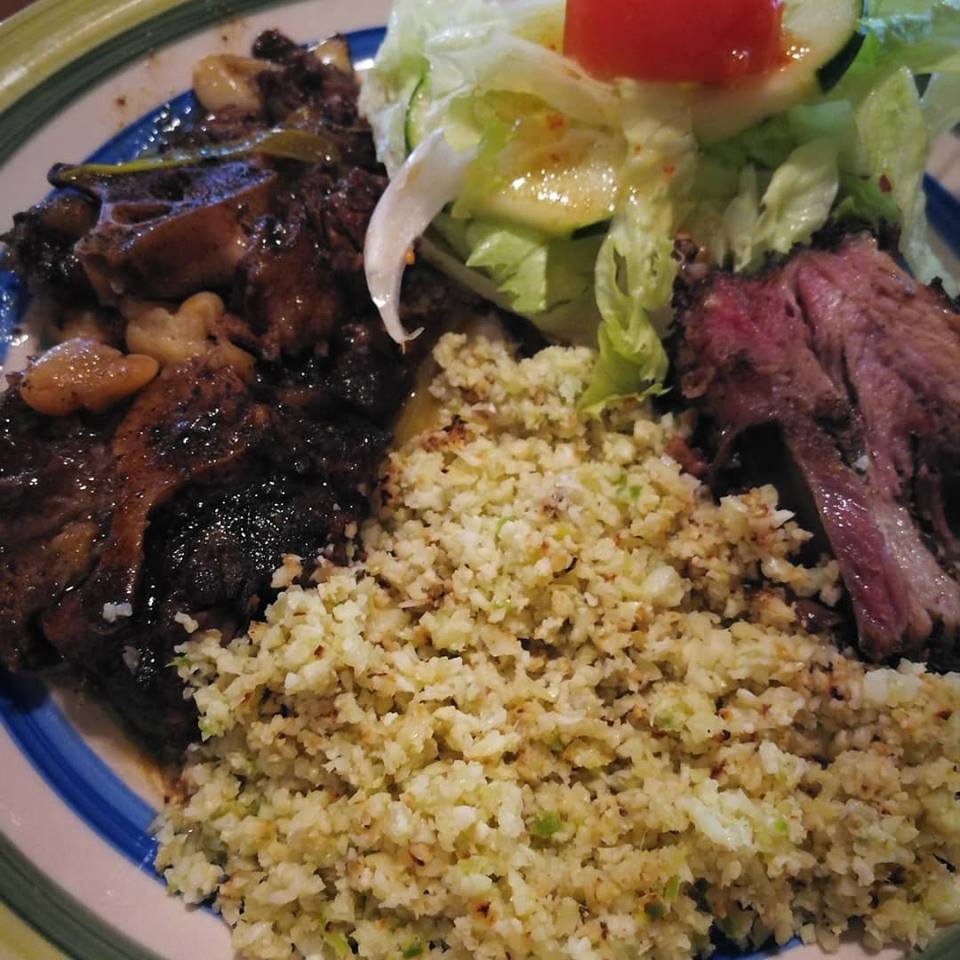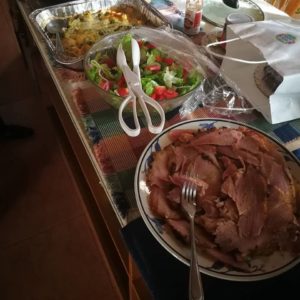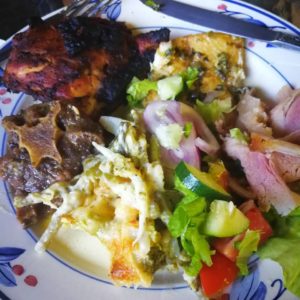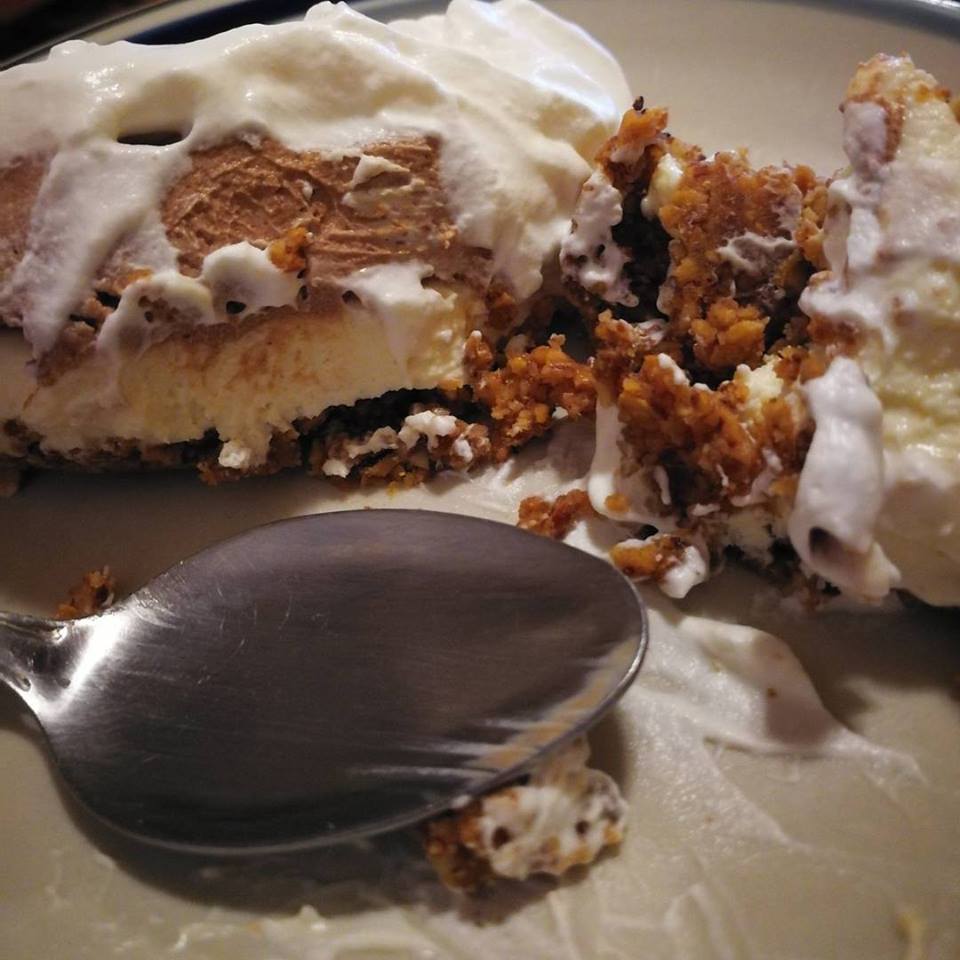 I've put together 8 easy recipes that show you how to make some of these dishes that are guaranteed replacements to your traditional Sunday dinner. Just subscribe to my blog here to get your free copy.
Before you know it, the weekend has ended (bummer!), YOU'VE remained on track, you're still burning fat and you haven't been hungry or deprived! #winning
Ready to seriously win? Give my suggestions a whirl and let me know how it works for you. Remember to grab my recipe booklet. It's easier to remain on track than you think.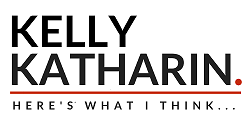 Disclaimer:
I am not a medical doctor nor am I a certified nutritionist and make no claims to the contrary. Each individual's dietary needs and restrictions are unique to the individual. You are ultimately responsible for all decisions pertaining to your health. The information on this website is written and produced for informational purposes only. This website is not intended to diagnose, treat, cure or prevent any disease. Content should not be considered a substitute for professional medical expertise or treatment. The reader assumes full responsibility for consulting a qualified health professional regarding health conditions or concerns, and before starting a new diet or health program.