So picture it: you didn't pack a lunch to take to work. You have several errands to run during the course of the day too. It's noon and you're hungry. What do you do? Buy 2 Jamaican patties? Turn your car into that fried chicken place drive through? Do you feel cornered into making a choice that you know doesn't honour your promise to your self and that will derail your progress in the quest for a smaller, healthier body? What if I told you that you can absolutely honour your goals even if you didn't plan ahead and you're busy busy busy going here, there and everywhere? The Supermarket Deli has entered the chat!
My own story with Keto
Over four years ago I chose to use a low-carb or ketogenic (keto for short) as my path to weight loss and wellness. It has worked for me. I no longer eat rice, bread, ground provision, pasta or anything with added sugar or made with flour. The result is that my body runs on fat instead of sugar, and I've lost over 60 lbs since then and gotten rid of numerous other health issues that I was beset with (mood swings, brain fog, asthma, adult cystic acne, PCOS symptoms, GERD and sleep apnea).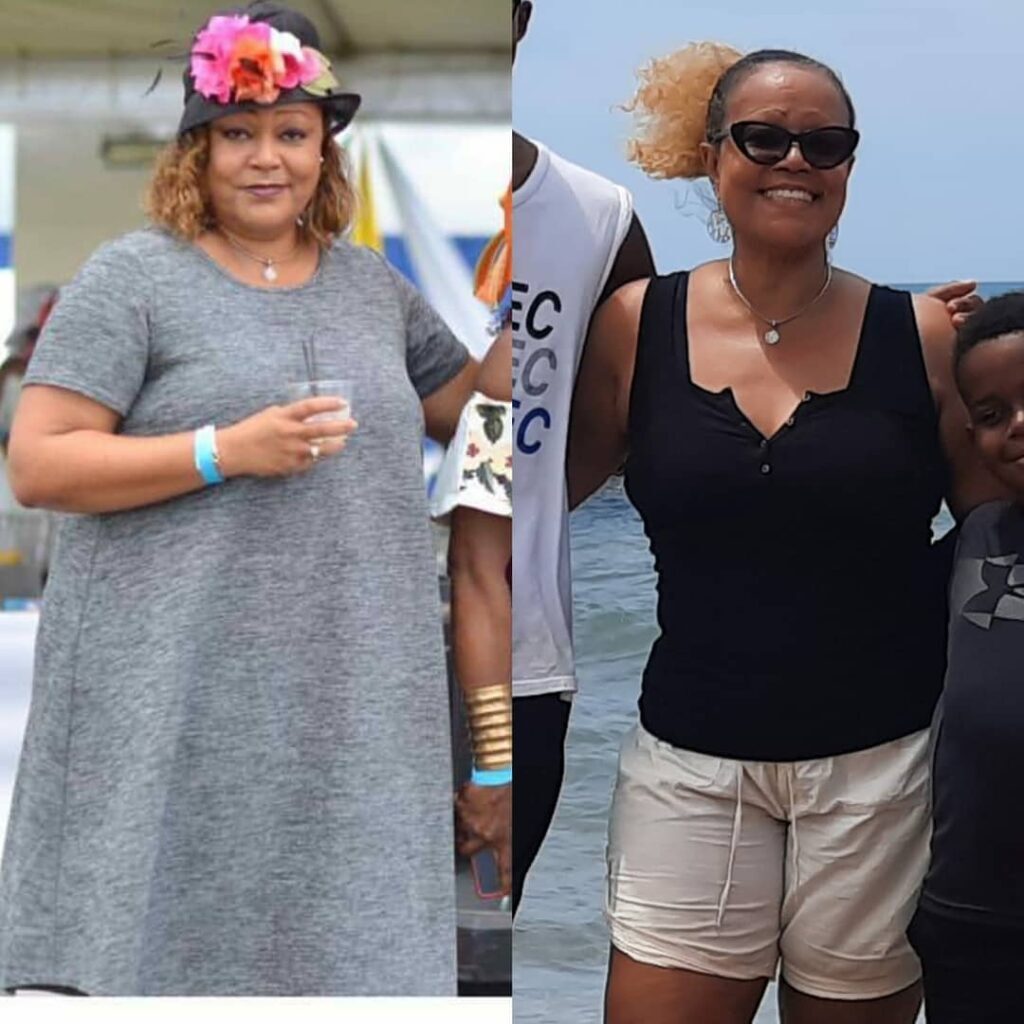 Here's the thing though: staying consistent while eating low-carb in a NOT low-carb-world means that I've had to plan ahead. I have to know what I'm going to eat and where it is going to come from before hand. That gets a little burdensome for sure, and I can imagine how it must feel for someone who doesn't have a cooking habit or a personal chef 🙂
I've discovered several hacks over the years though, that I've used, and that I've recommended with great success to the clients I've worked with on their own keto journey. This post is about an often overlooked treasure trove of relatively affordable and convenient low-carb food options: your supermarket deli.
I went to 4 supermarket delis in Kingston, Jamaica and surveyed the various options I saw. I want to share them with you so you have a very clear idea of some of the options you have and their relative costs. Even if you do not live in Kingston or Jamaica, all truths remain parallel! Visit supermarket delis in your neck of the woods one day when you're not pressed for time or hungry and do your own survey. You'd be surprised what you find. I remember being in Ft. Lauderdale, Florida and visiting the nearby Publix supermarket deli. OMG! I bought rotisserie chicken, olive salad, tossed salads, macadamia nuts, pepperoni slices, cheeses and salad dressing and kept them in my hotel room fridge for the duration of my stay there. But I digress… Let's bring it back to Kingston, Jamaica.
Keto options at Lee's Supermarket, Red Hills Rd
The most obvious choice: rotisserie chicken. You can get chicken in quarters, halves or wholes. A quarter is typically a single serve portion. You can get roasted, jerk mild or spicy or BBQ. I do not recommend the BBQ option as the sauce has sugar in it. Sometimes the quarter chicken serving has a bread roll thrown in. Toss out the roll. Seriously. Don't think of it as wasting food. Rather think of it as preserving your body.
You can also get, from time to time, jerked chicken wings. No, the breaded wing options are not for us.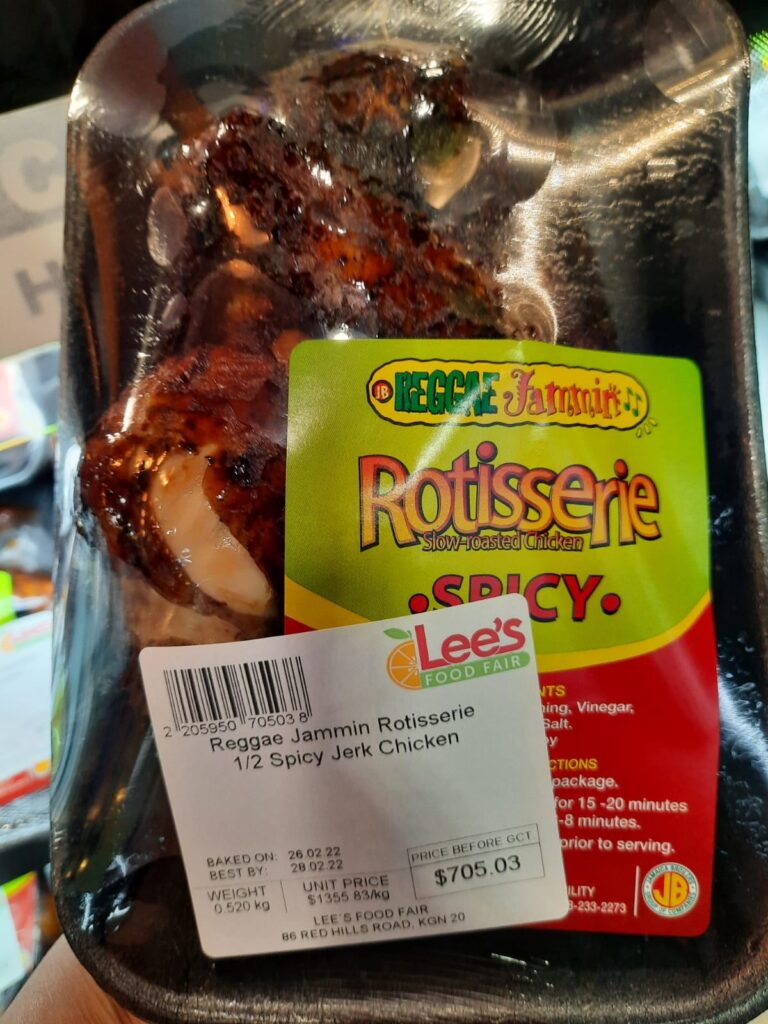 They also have sometimes, grilled sausages. This isn't my first choice, as I am not sure what the sausages have in their filling. Yes, lots of sausages have added soy or wheat to improve texture and lower cost. A 100% all meat sausage is best. BUT, a grilled sausage with wheat or soy included will always be a better choice than those 2 beef patties.
For my readers outside of Jamaica, a patty here is a meat filled pie made with a flaky wheat flour crust. 1 beef patty = 41g of carbs. Most of us start to lose weight and improve metabolic health on 20g carbs or less per day
The deli at Lee's also has salad options. These are great options. You can go for the more expensive option with a grilled chicken breast thrown in. Or you can take the smaller, plainer option: a small salad and then walk to the section of the supermarket where they sell tuna or cheese and add that to your salad. Lemon pepper flavoured tuna or garlic & pepper tuna are great. A chunky tuna packed in water is pretty awesome too. All the salads come with salad dressing. Yes, go ahead and dress your salads. Go for white, creamy dressings which are typically lower carb than orange ones. Bonus points for you if you walk with your own salad dressing or bottle of extra virgin olive oil. Oh, I've seen hard boiled eggs at this deli in the past. Those are great to add that critical protein component to your meal.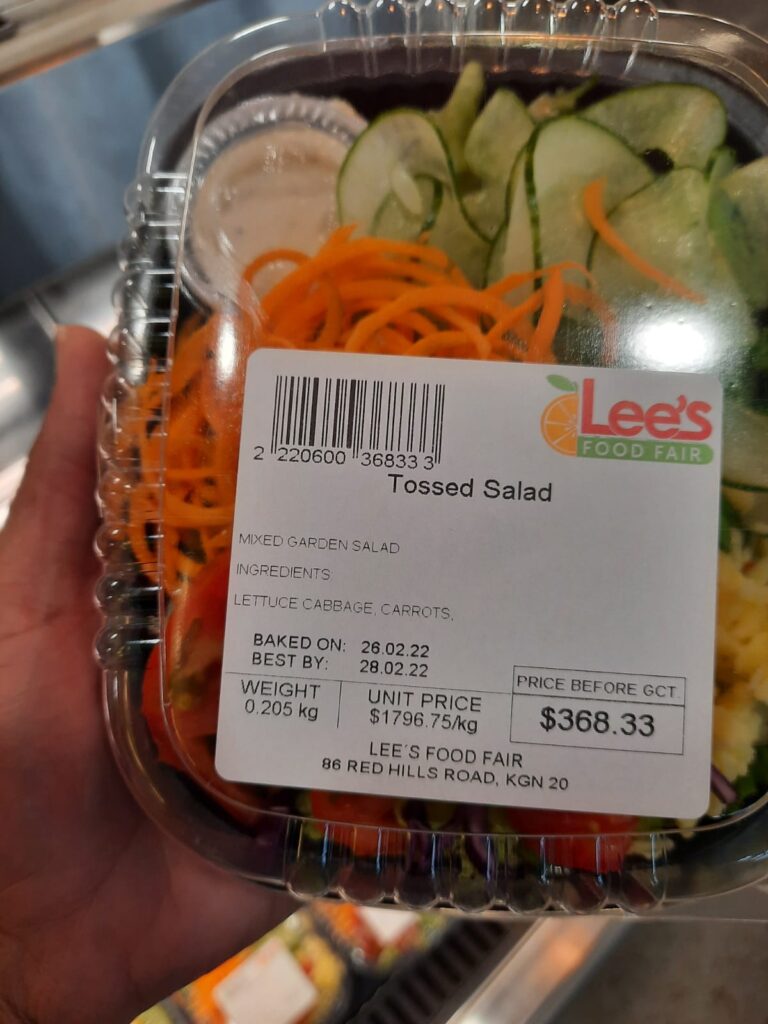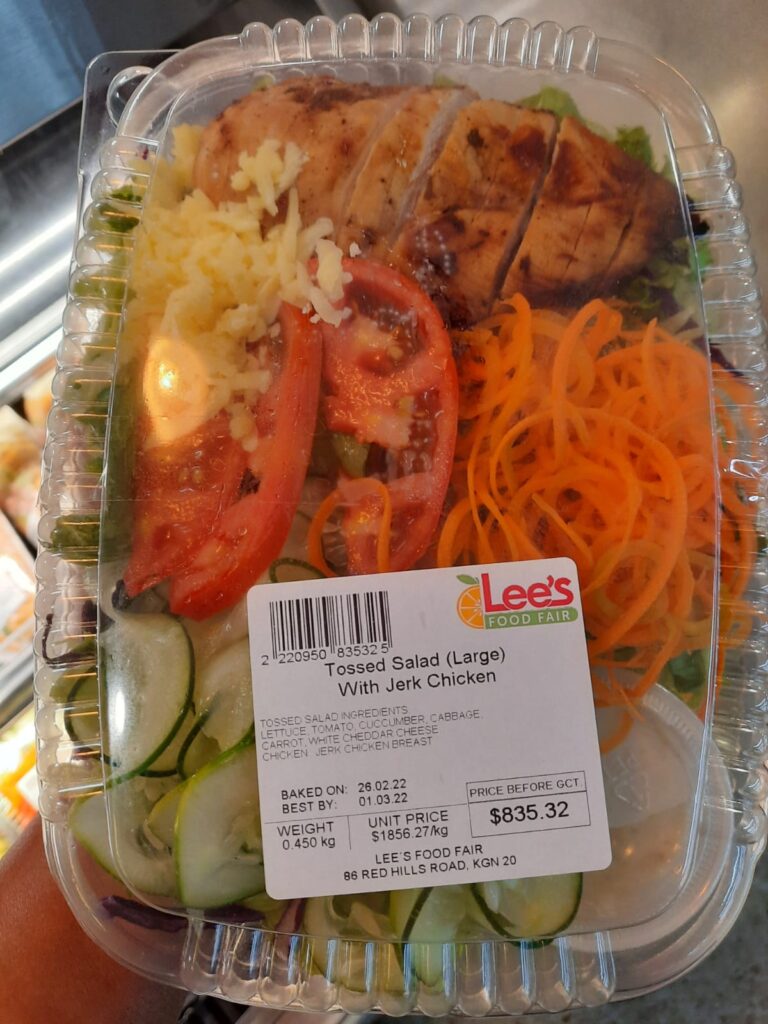 Protein is our secret weapon! Don't starve yourself of this critical macro nutrient. This is what keeps you fuller for longer and gets you burning fat for energy. How are you going to stick to your eating plan if you're hungry? Duh!
Lastly: compare what you'd spend in the deli to what you'd spend on a typical lunch full of refined carbs. You'll be surprised. How much is it for a sandwich and fries at your favourite burger joint? How much is it for lunch from your favourite food caterer? And always factor in the fact that you are improving your health when you opt out of high carb options!
Keto options at Loshusan Supermarket
This is one of my favourite supermarket delis. In addition to the standard rotisserie fare, they do grilled meat options. I find their options to be pricier than others, but their Chinese style or grilled pork is DELICIOUS! They also do a fried sprat option which you may find to be a viable lunch option.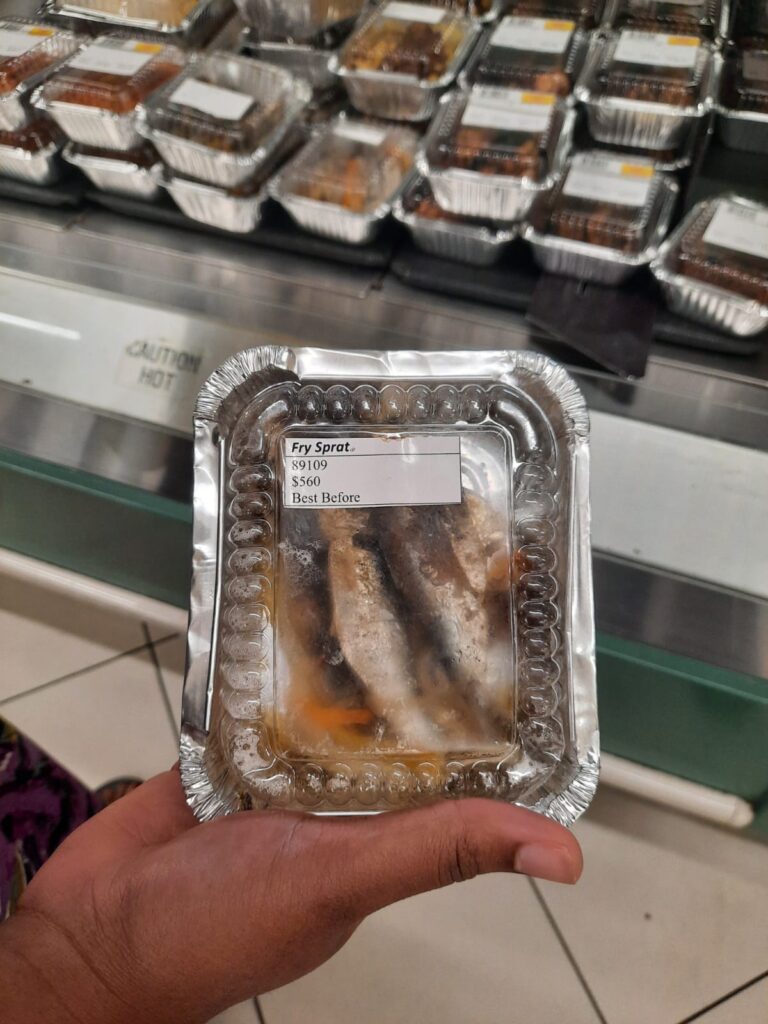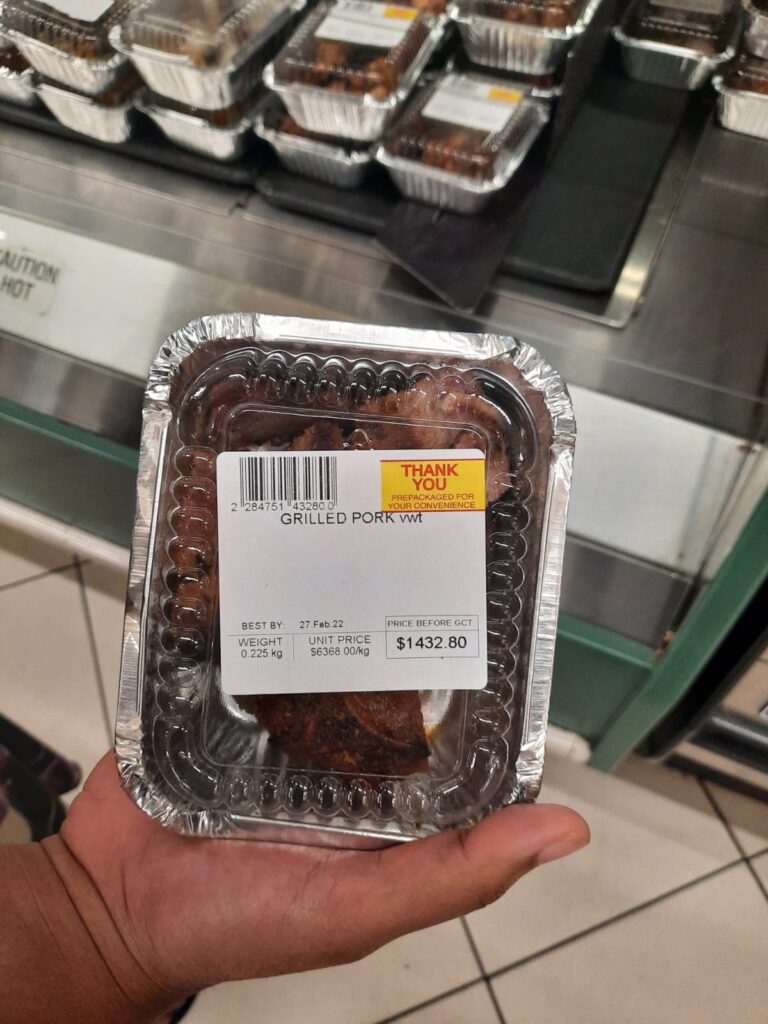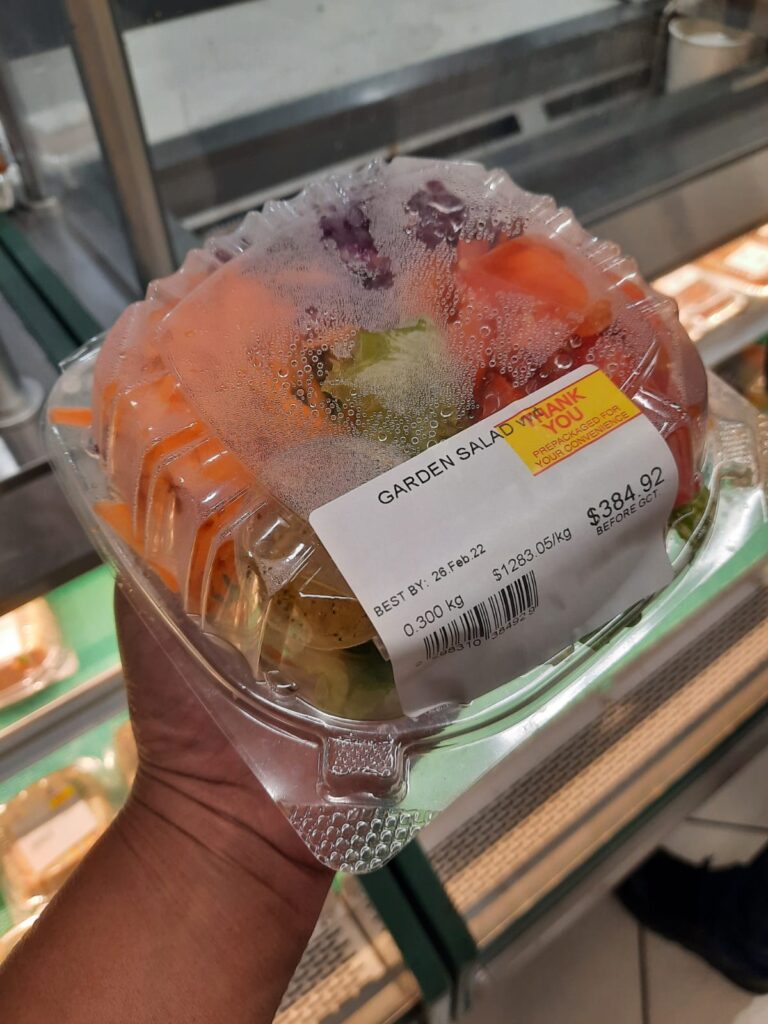 Keto Options at HiLo, Liguanea
I've had some pretty good, affordable salads from this particular supermarket in the pasta. They had salads with added sweet potato or pasta salads. They had salads with added tuna, chicken or hard boiled eggs WITHOUT the carby pasta or potato. Sadly, I saw none when I visited.
They did have hot soup. You could have a small one and throw away the "food" or ask the deli manager for a cup without added "food". (Food is the usual yam, breadfruit, potato and dumplings included in Jamaican soups)
They also have, as expected, the standard rotisserie options and they also had jerked sausages. Good options as always.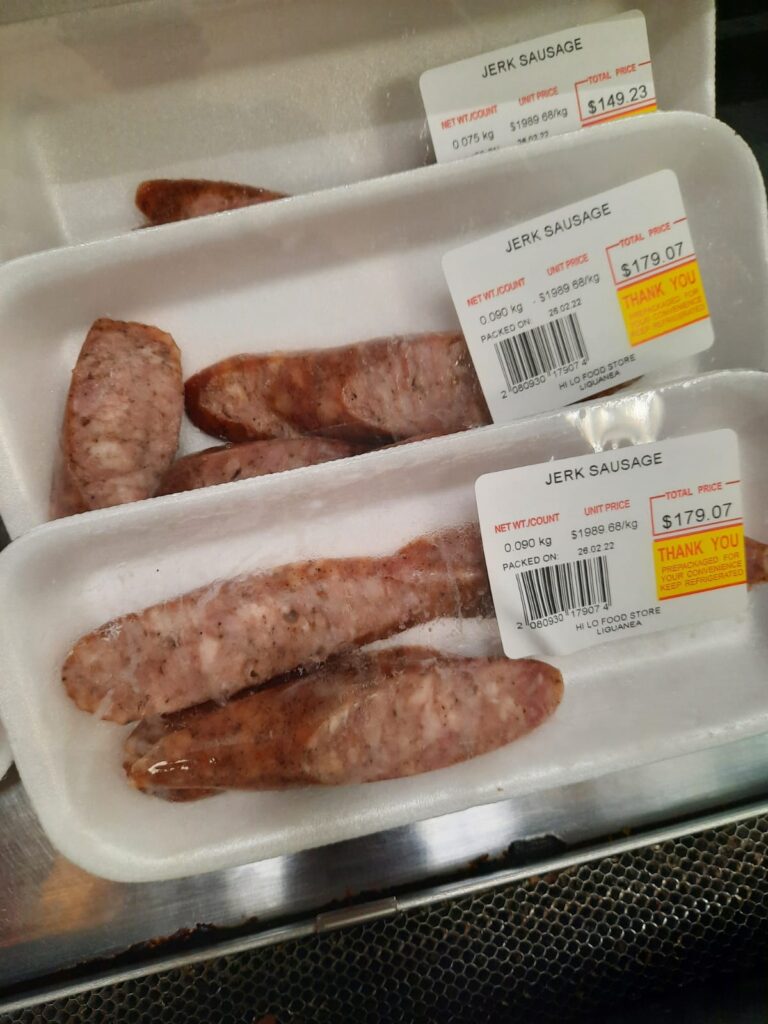 Keto Options at General Foods, Liguanea
This is my personal favourite deli! They always have decent options, fairly priced in my opinion.
In addition to the regular rotisserie chicken options as well as soup, check out some other options!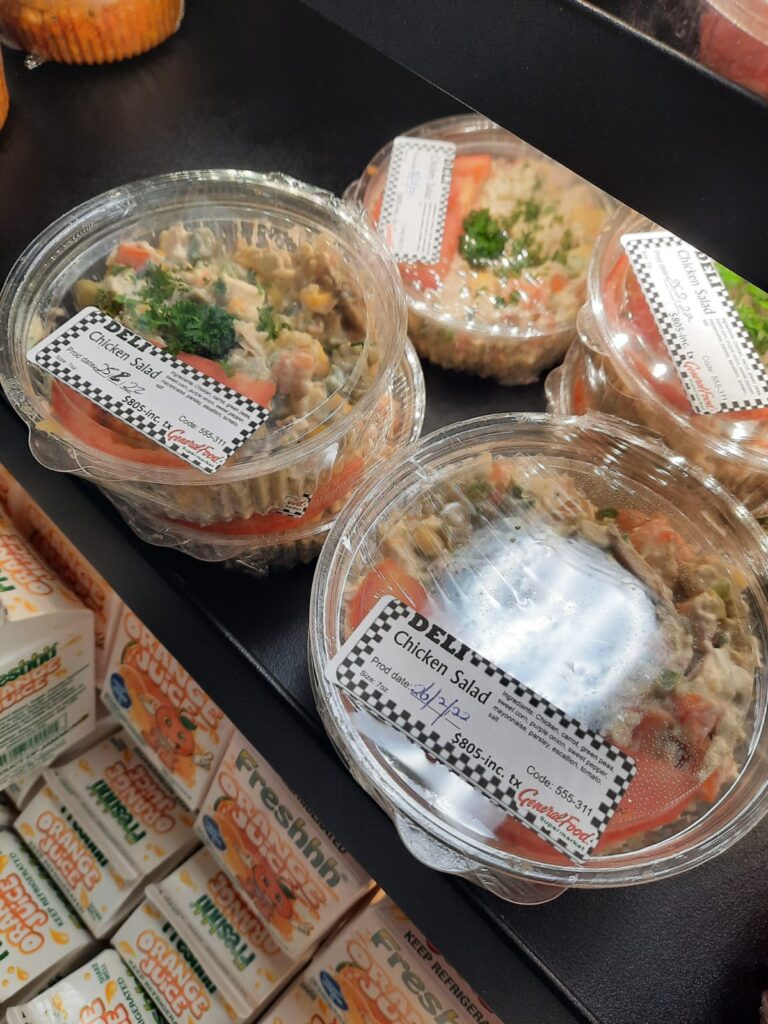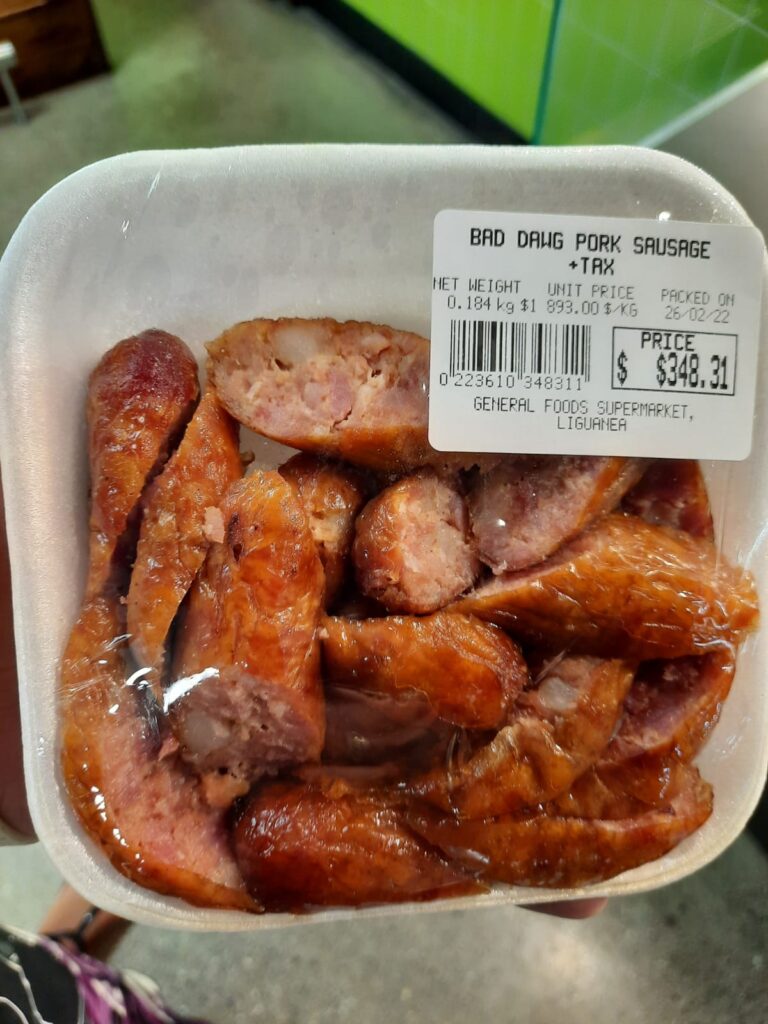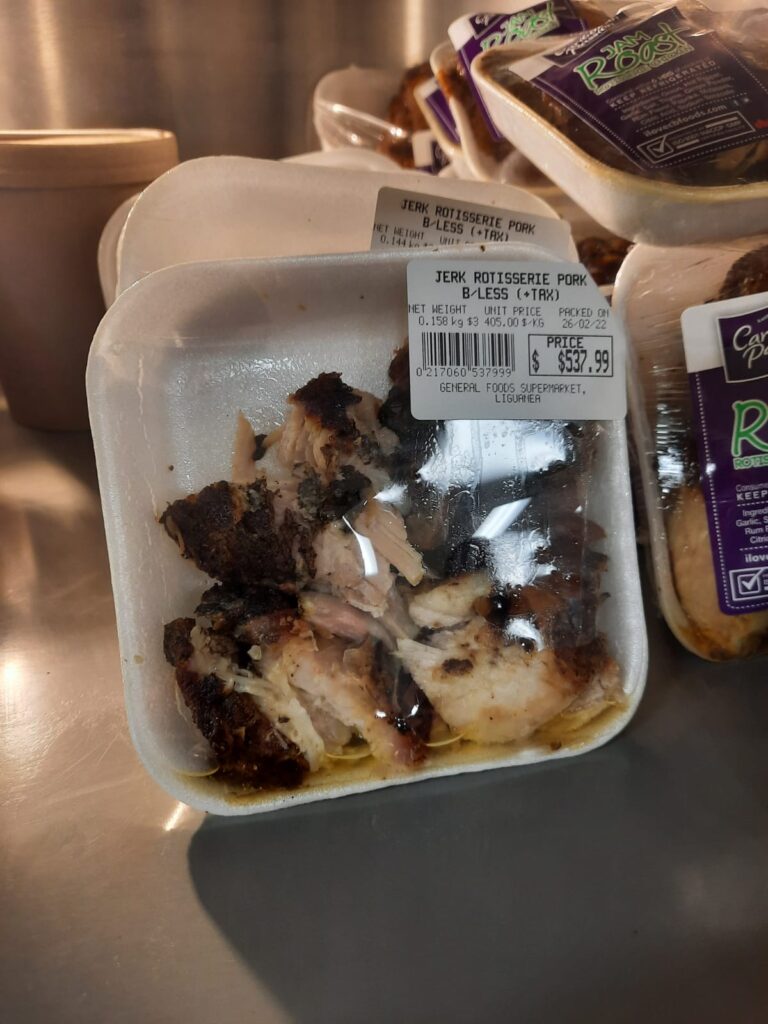 Are these deli keto options 100% healthy?
In short, NO. You see, some of the seasonings they use may contain soy and sugar. The salad dressings and the oil they fry some of the options in, are most likely horrible "seed oils" or highly processed "vegetable oils" like refined vegetable oil, soya bean oil, canola oil, etc. These fats are inflammatory and classified as trans-fats.
HOWEVER, if you're eating these options 20-30% of the time, I really don't think you're sabotaging your efforts. You're simply striking the best balance you can under the circumstances and honestly, I don't think the quantities of these less than healthy inclusions is enough to cause deleterious harm. These options will always be better than all that rice or those fries or that sugary bun or Jamaican patties. Trust and believe!
Additional Tips to Make Eating Keto Supermarket Deli Options work for you!
Always have wipes and napkins in your car
A disposable (preferably eco-friendly) fork or spoon is good too, as is a set of reusable utensils that you wash at home, and replace in your bag or car.
Have a bag handy to keep your garbage after eating until you get to a place (your office or home) where you can dump it properly
Be like Beyonce and keep a bottle of hot sauce in your purse!
DRINK WATER with your meal.
Additional tips to make eating keto easier for you!
Options for eating keto on the go in Jamaica
Meal prep for keto made easy, even for non-cooks
I'd love to hear if this post helped you in any way, shape or form.
Do you have any tips of your own? Please do share them with me as well!