One of my sisters asked me a question the other day: "What have you replaced the happiness you got while eating carbs with?" For the past year and half, I've been working the keto diet. I've lost anywhere between 55 and 60 lbs as at now (nope, I don't weigh…been there done that and I have no intention of being a slave to the scale ever again!) and I feel good! I thought about Anna's question to me and replied with a picture of my before and "during" as I like to say, because I'm not yet where I want to be. But her question is one which a lot of people grapple with as they contemplate the pros and cons of the ketogenic diet as a possible response to a weight or health issue. And it is a valid concern. Carbs, sugar in particular, are delicious and many, many people derive actual pleasure from a good slice of cheesecake or a bag of soft chew chocolate cookies!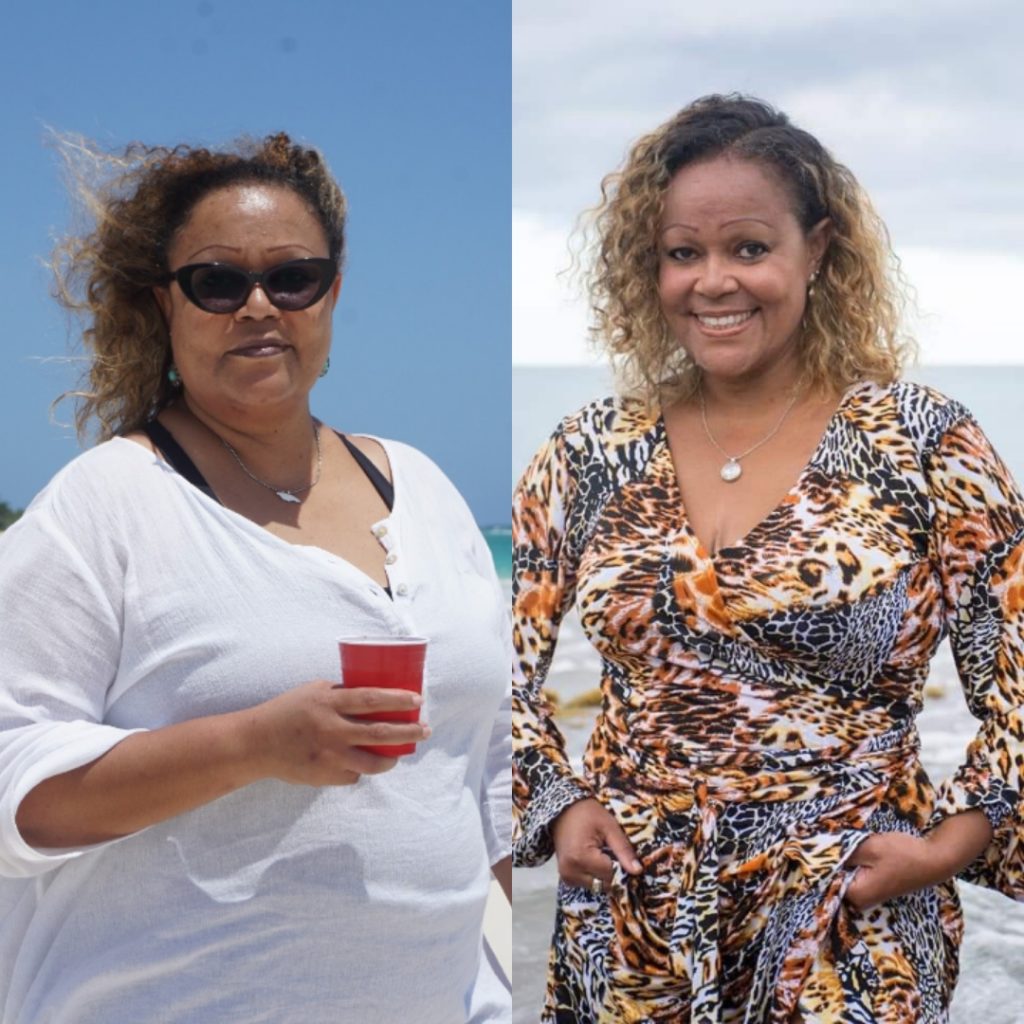 Sugar makes us happy! But…
Yes, carbs, and sugar in particular, do in fact make many of us happy! Anna's question to me was a very valid one. In his fantastic book "The Case Against Sugar", Gary Taubes explains why. The blurb advertising the book on Amazon.com describes "The Case Against Sugar" this way: "It is an eye-opening exposé that makes the convincing case that sugar is the tobacco of the new millennium: backed by powerful lobbies, entrenched in our lives, and making us very sick."
Many historians have considered the "sugar-as-a-drug" metaphor to be an apt one, Taubes opines. Sugars, especially highly refined sucrose, produce very specific physiological effects when we consume them. Babies instinctively will prefer sweeter foods if offered a choice. Research has shown that sugar induces the same responses in the the region of the brain known as the reward center (nucleus accumbens) as do nicotine, cocaine, heroin and alcohol. Gasp! That's why the more you consume sugar, the more you want! And sugar literally makes us feel good. Sugar stimulates the the release of feel good chemicals in our brain, dopamine, and it takes more and more sugar over time, to produce the level of dopamine it will take to keep us happy. Taubes, in very clear and easy to understand language, then explains how our increased consumption of sugar over the years, has coincided with the obesity crisis, and along with the rise in obesity, we're seeing the clustering of chronic diseases and conditions like diabetes, heart disease, cancer, Alzheimer's, polycystic ovarian syndrome, rheumatoid arthritis and fatty liver disease. The clustering, which simply means these diseases present together in populations, suggests a common root cause: SUGAR!
Anyway, this post is not meant to convince you that you're better off without sugar (but you are, by the way!). It is to address Anna's question about happiness and carbs and keto. So yes, losing weight is a great source of happiness for those of us who have lost and are losing weight. Woohoo! But we know the pleasures of sugar and we live in a world where dessert is the norm, where food processors make it so easy for us to satisfy our sugar cravings by having affordable, sweet treats readily accessible and where most of us have spent a great deal of our lives actually consuming the stuff! Old habits really do die hard, and sometimes, we just get a craving for something sweet.
Note: these cravings subside as we become what is called "fat adapted", and this happens on the keto diet. When we cut our carbohydrate consumption, out bodies start burning fats for energy and we need less of a hormone called insulin which metabolizes carbs. Lower insulin levels and lower blood sugar levels in our blood, results in us feeling fuller quicker and quells our sugar cravings.
Our new and improved body chemistry notwithstanding, we keto dieters live in a real world surrounded by sugary foods and that social ritual called dessert. I went on to confess to my sister Anna that I also derive joy from occasional low-carb treats like cheesecake, ice cream, cake with frosting and cookies, all made low-carb of course. Yes, these things exist in our world 🙂 We simply swap out the wheat flour and sugar for keto compliant ingredients like carb-free sweeteners, nuts, seeds, almond flour and coconut flour which are low-carb alternatives. There are a plethora of recipes available out there! Feel for apple pie? Google "low-carb apple pie." Feel for peanut butter cookies? Google "low-carb peanut butter cookies." Get the picture? I'm going to share with you 3 of my personal favourite keto sweet treats. Now I have never liked to bake, and I've never been particularly good at it. But necessity, as they say, is the mother of invention, and so I've stepped out of my comfort zone and tried and experimented in order to be able to indulge every now and then, while remaining compliant on my way of eating so I continue to lose weight.
Yes to Keto Desserts, but…
Over-indulgence in many keto desserts will take you well past your recommended carb allowance of 20g per day and likely kick you out of ketosis. I suppose it is still much better than scarfing down that floury, sugary brownie that you'd otherwise have were there no alternative though!
Over indulgence in these keto sweet treats will make sure that you still crave sugar, even though you are using a sugar alternative. There are schools of thought that posit that our bodies respond to even these low-carb sweeteners the same way they respond to sugar in terms of triggering insulin. An unchecked sugar craving increases the likelihood of slip-ups when no ready low-carb alternative is close to hand.
Keto dieters have reported stalling on their weight loss progress when their consumption of even keto approved desserts goes up. Once they ease off the treats for a while, weight loss resumes. Be guided accordingly!
My 3 Personal Faves: Ice Cream, Cheesecake and Frosted Cupcakes!
These 3 are soooo easy to make, so delicious (practically like the "real" thing) and all made with very accessible ingredients. I hope you enjoy them too!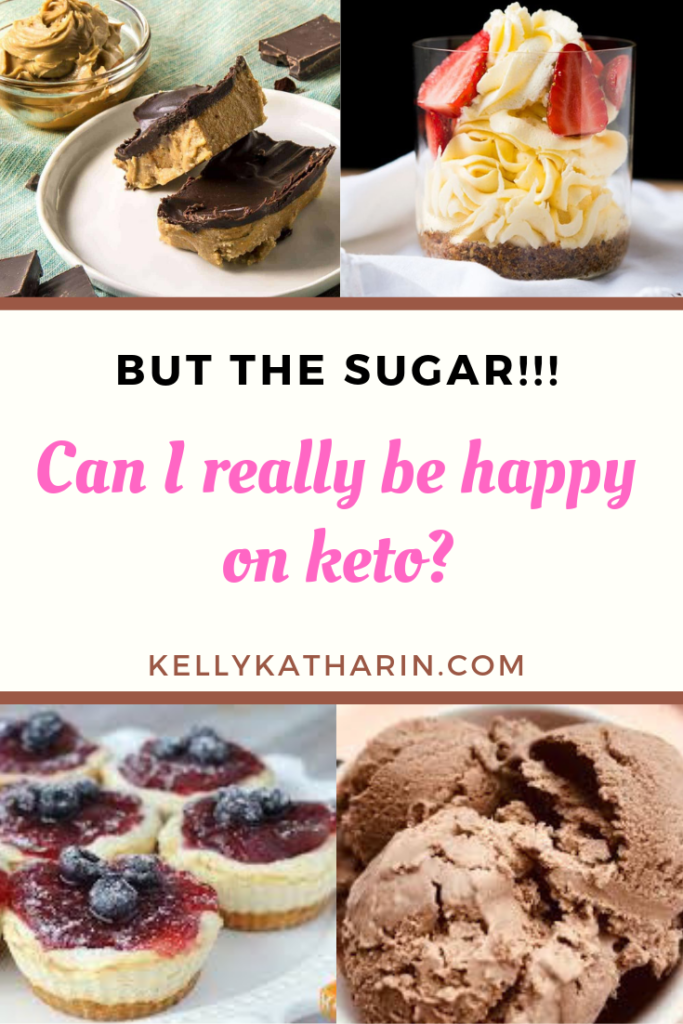 Keto Ice Cream
I got this recipe from a Caribbean Keto Tribe member. Thanks, Wendy! (Feel free to join our wonderful on-line support group here.)
Ingredients: 1 cup heavy cream 1/4 cup of your favourite low-carb sugar alternative A pinch of salt 1 tsp vanilla
Directions: Place all ingredients in a Mason jar. Shake vigorously. Freeze for 3-4 hours and then enjoy!
Pro-tip: You can create your favourite flavour ice-cream by building on this basic recipe. Add berries or some unsweetened cocoa-powder or a teaspoon (or 2!) of rum!
New York Style Baked Cheesecake
This is a recipe from the Wholesome Yum blog. I thank them with all my heart :). I made this for my 100% keto Christmas dinner and it was a hit! It has a crust and a yummy creamy filling. You can make your own topping if you like…think fresh berries or real whipped cream!
Ingredients for the crust
2 cups Blanched almond flour
1/3 cup Butter (measured solid, then melted)
3 tbsp Erythritol (granular or powdered works fine) or your favourite low-carb sweetener
1 tsp Vanilla extract
Ingredients for the filling
32 oz Cream cheese (softened)
1 1/4 cup Powdered erythritol (erythritol must be powdered; can also use powdered monk fruit sweetener)
3 large Egg
1 tbsp Lemon juice
1 tsp Vanilla extract
Directions:
Preheat the oven to 350 degrees F (177 degrees C). Grease a 9 in (23 cm) springform pan (or you can line the bottom with parchment paper).
To make the almond flour cheesecake crust, stir the almond flour, melted butter, erythritol, and vanilla extract in a medium bowl, until well combined. The dough will be slightly crumbly. Press the dough into the bottom of the prepared pan. Bake for about 10-12 minutes, until barely golden. Let cool at least 10 minutes.
Meanwhile, beat the cream cheese and powdered sweetener together at low to medium speed until fluffy. Beat in the eggs, one at a time. Finally, beat in the lemon juice and vanilla extract. (Keep the mixer at low to medium the whole time; too high speed will introduce too many air bubbles, which we don't want.)
Pour the filling into the pan over the crust. Smooth the top with a spatula (use a pastry spatula for a smoother top if you have one).
Bake for about 45-55 minutes, until the center is almost set, but still jiggly.
Remove the cheesecake from the oven. If the edges are stuck to the pan, run a knife around the edge (don't remove the springform edge yet). Cool in the pan on the counter to room temperature, then refrigerate for at least 4 hours (preferably overnight), until completely set. (Do not try to remove the cake from the pan before chilling.)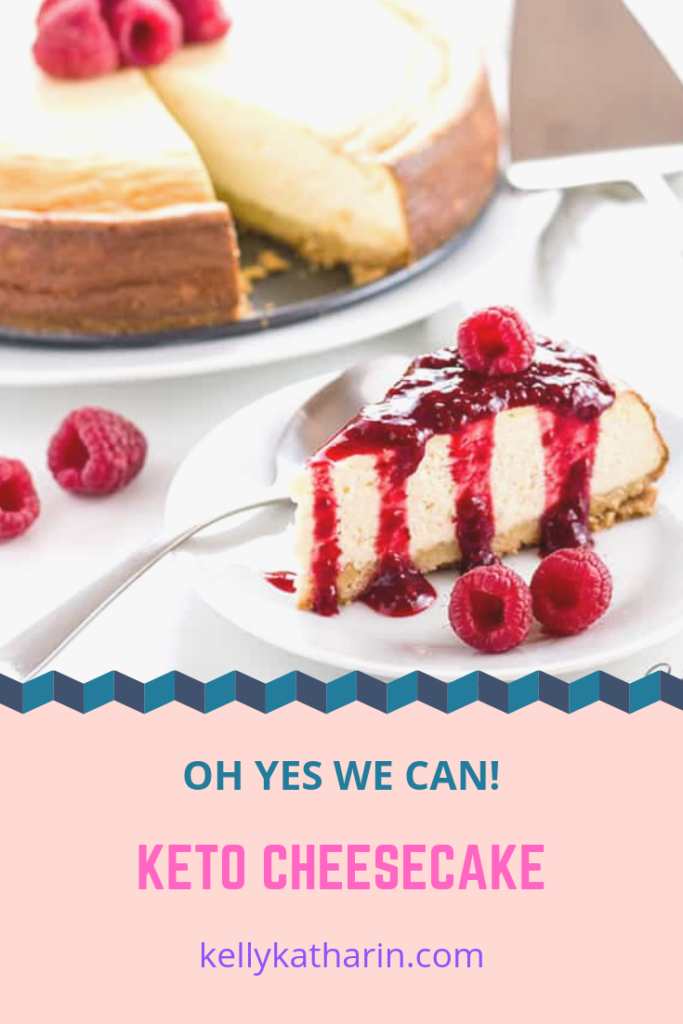 I also love this no-bake cheesecake recipe in my freebie which you get when you subscribe to my blog. Get it here!
Keto vanilla cup cakes with frosting
This is a recipe that was shared in the Caribbean Keto Tribe (thanks, Diana!) and it's from the Hungry Elephant blog. It is tooooo easy to make and seriously delicious. You don't miss the "real" thing at all. And if you have nut allergies, this is perfect since it's made with coconut flour. Visit the actual blog post in the link above for great tips on how you can vary this basic recipe to get more delicious flavours!
Ingredients for the cupcakes
1/3 cup (40g) coconut flour
1/4 cup (50g) sugar substitute
1 tsp baking powder
1/2 cup (117ml) heavy cream
2 large eggs
1 tsp vanilla
Ingredients for the frosting (don't leave this part out!!!)
250g mascarpone cheese
1 tsp vanilla
1/3 cup (40g) powdered sugar substitute
2 tbsp heavy cream
Instructions
In a mixing bowl, whisk together the coconut flour, sugar substitute and baking powder.
Pour in the cream and vanilla, crack in the eggs and stir until thoroughly mixed.
Scoop into a muffin tin lined with cups.
Baking at 350°F / 175°C for 20-25 minutes or until a tooth pick comes out clean.
Take them out and let them cool.
In a mixing bowl, whisk together the mascarpone, cream, vanilla and powdered sugar substitute.
Pipe the icing onto the cupcakes.
There's really no reason why we keto dieters can't have our cake and eat it too! We ought to remain mindful of the downsides, but we can still replace our carbs and be happy at the same time!