Carbohydrates are a critical part of how we eat in Jamaica. Talk of giving them up leads to the inevitable: So what will I eat then? 
What follows are some approaches and options that have been working for me on my own keto or low-carb journey.
Note: I use low-carb and keto (short for ketogenic) interchangeably. Don't get hung up. You'll see that my food choices are predominantly keto but in the course of any given day, I may end up exceeding the 20g of carbs per day threshold between ketogenic and low-carb (keto dieters consume 20g or less of carbs per day, low-carbers consume up to 100g carbs per day) since I don't limit my green veggies, and those green veggie carbs can add up.
What I DON'T Eat:
Flour and flour products like bread, biscuits, crackers, dumplings, pasta, festivals…even so-called whole wheat or whole grain products.
Rice
Sugar
Honey
Fruits
Oats
Cow's milk
Complex Carbohydrates like yam, green banana, plantains, Irish and sweet potatoes, dasheen, etc
Bammy
Coloured starchy veggies like pumpkin, carrots, corn
Peas and beans
Whew….
What I DO Eat
Any and all GREEN veggies! Think cabbage, lettuce, cucumbers, string beans, okra, turnip, radishes, zucchini, broccoli, cauliflower, onions, sweet peppers, cho-cho, callaloo
Good fats: olive and coconut virgin oils
ALL dairy (some people avoid this, no prob)
Eggs
Canned fish like sardines, tuna and mackerel in brine (not in tomato sauce…those sauces have hidden sugars)
Any and all ANIMAL PROTEINS simply prepared without any added sugar.
WHAT ABOUT CONDIMENTS?
No ketchup. If you ever knew how much sugar is in ketchup you'd be amazed!
I read salad dressing labels and make my own salad dressings. Any one with a serving size with total carbs in excess of 2g is ignored. I stay far from those.
Mayonnaise is good. Remember the enemy is not fat, but carbs. There's science there. Google it.
Mustard is good, not honey mustard, just regular Dijon or yellow mustard.
Pepper sauces (read the label to assess carb count)
No BBQ sauce unless I make it or unless it's a sugar free variant
Olives rock
Pickles (not the sweet ones) are great
How to Win with Keto

At the start of this journey I promised myself 2 things: I must NEVER be hungry and I must continue to LOVE the food I eat. Deprivation is the fastest route to failure.
There are two alternatives to creating a sustainable low-carb way of eating: you can SUBSTITUTE the carbs or you can ELIMINATE them. I do a combination of both.
Keto Jamaican Style
Curried goat and rice.
Kelly's version: curried goat cooked the same way, using coconut oil though, served with cauliflower rice and a huge garden salad.
Stewed Chicken and rice
Kelly's version: stewed chicken cooked without added sugar or ketchup served with cauliflower rice or steamed callaloo or stir fried cabbage and a huge salad
Escoveitch fish and festival
Kelly's version: fried fish cooked the same way (not floured!) with sugar-less escoveitch pickle and a salad
Roast beef and mashed potatoes:
Kelly's version: same roast beef (no sugar or sugary sauces in cooking) with cauliflower mash and a salad
Callaloo quiche
Kelly's Version: NO CRUST, a cheese sauce made with cream cheese and other cheeses, no roux.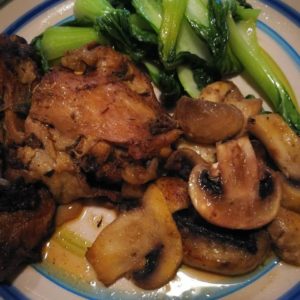 Baked Chicken and mushrooms and wilted bok choi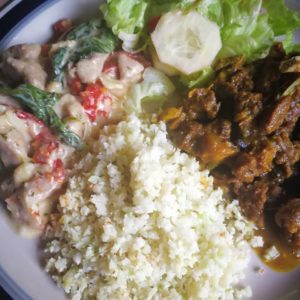 Curried goat with cauliflower rice and chicken thighs in a cheesy cream sauce
Do you see a pattern emerging? I simply bump up my veggie intake to compensate for the elimination of the typical carb component!
I have gotten used to eating omelettes without toast or bread, deviled eggs just by themselves, and eating Jamaican staples such as ackee and saltfish or mackerel run down with steamed callaloo and no "food."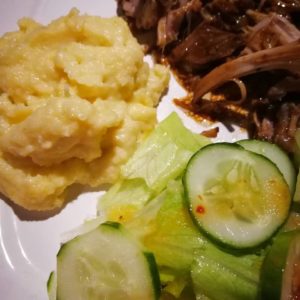 Pot roast pork with cauliflower mash and a salad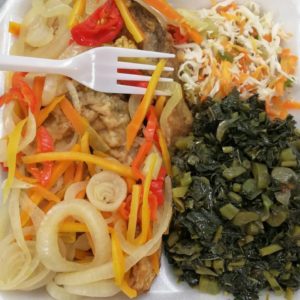 Escoveitch fish and callaloo and salad (I didn't cook this one!)
Transition to Keto like this!
There are a plethora of recipes on-line for credible traditional carbohydrate food substitutes which have provided a mouth-feel that I've craved or worked like the carb side that I eliminated. On the left are the sides/foods I no longer eat, and on the right are the foods that I've found to be satisfactory replacements:
Rice:                      Cauliflower rice
Pasta:                    zucchini noodles (zoodles) (a fresh zucchini run through a                                           spiralizer is all this takes to make.
Mashed Potatoes:  Cheesy cauliflower mash, or steamed turnips mashed with                                       butter, or radishes cooked with the roast
Bread:                   almond flour mug bread
Pizza dough:         fat head dough 
Cheesy bread:       fat head rolls
Mac and Cheese: veggie cheese casserole, the cheese sauce being made with                                          cream cheese and other cheeses…no floury roux for me.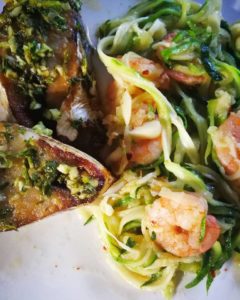 Baked king fish slices with garlic and parsley and stir-fried zoodles with shrimp
I've created links to some recipes above. In upcoming posts I'll share my own recipes for some of my faves like the cauliflower rice, veggie cheese casserole, crust-less quiche and baked fish.
I snack on broths, nuts, cheese, seeds, rotisserie chicken, meaty (no filler) sausages, boiled eggs, tuna.
KETO DESSERTS? OH YES!
We haven't touched desserts yet and I hear some of your mourning the loss (or so you think) of your sweet treats. I'm not a dessert person fortunately, but I have found a few easy, great substitutes that I enjoy on occasion… think low-carb cheese cake, or low-carb mug cakes with butter frosting or peanut butter cookies.
Still seems difficult to plan low-carb meals? Nah…just a little forethought and planning needed.